The Eve Lighter mattress is a budget-friendly option for those who are looking for a foam mattress for around £300. Having tested plenty of entry-level mattresses, I found that the Lighter mattress offers a decent sleep experience, but it may not be for everyone, and if you can afford to upgrade, it's probably worth it.
The mattress's two-layer design may seem stingy, in a world where the five-layer mattress is now commonplace, but it provides gentle cushioning and fairly good support with extra pressure relief, which is recommended for those who prefer a softer feel.
However, I found that the support wasn't as strong as I would have liked personally, and it may not be suitable for those who require firmer support for their back or hips. Additionally, while the top cover is made from "moisture-wicking" material, I still found myself getting hot and sweaty at times.
Pros:
Incredibly cheap, but doesn't feel it
Moisture-wicking top cover helps regulate temperature
CertiPUR certified foams and OEKO-TEX cover
Made in the UK by a UK company
365-night trial with free returns
Cons:
May be too firm for some side sleepers or those looking for a softer feel
May not provide enough support for heavier individuals
Foam construction can make it feel warm
Only 3 sizes
Not recyclable
One thing that I really think is good about the Lighter mattress is Eve's obvious focus on keeping costs down without sacrificing quality. The top layer of the mattress is soft and cushioned, but I did find that the foam took some time to adjust to my body and didn't offer the immediate comfort that you get with higher-end mattresses.
Overview: Brief summary
The Lighter mattress, being a memory foam, caters to a few different sleeping positions, but I found that the side sleeping position is where the mattress performs best. The different zones, albeit limited, provided enough pressure relief on my shoulders and hips.
Perhaps the best thing about Eve though – for all their mattresses – is he year-long trial. A lot of companies offer 100- or even 200-night trials, but given that you have 365 nights here, it definitely does come with a bit of extra peace of mind. Find out more about the trial here.
The only other company in the UK offering year-long trials are Nectar Sleep and DreamCloud (they're the same company).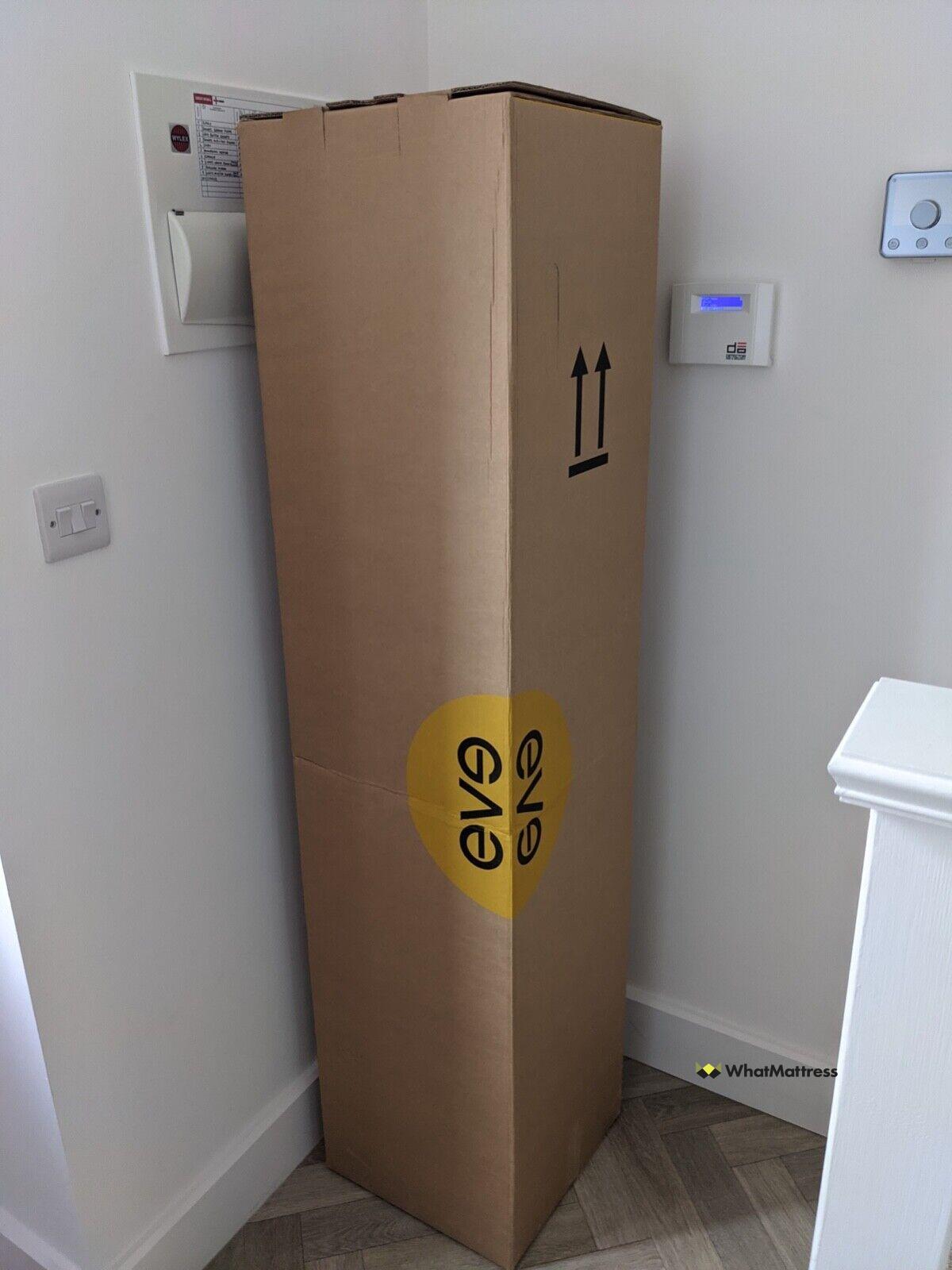 Eve Lighter mattress: Cover review
The cover here is 98% polyester and 2% elastane; this fabric combination is quite popular among memory foam mattresses because not only is it supposed to be comfortable, but also breathable and effective at preventing night-time sweats. The downside is that it's man-made and not a 'natural' product.
The cover zips off for an easy 40°C machine wash, so it stays clean and fresh. To avoid damaging the fabric Eve Sleep recommend that you do not iron, bleach, dry clean, or tumble dry the cover – machine wash only.
Mattress top covers produced from a moisture-wicking fabric like polyester are mostly fine to sleep on, once you get over the slightly 'waxy' feeling (which can be masked with a thick base sheet anyway). The reason Eve have used polyester here rather than cotton is because polyester generally is better at preventing you from getting too hot in the night.
Sadly, I woke up feeling quite hot several times, even though I keep my bedroom temperature at around 17C at night. Though this may have been due to the mattress contents/layers rather than the cover, which I'll go over next.
Just a quick note: the Eve Lighter used to be called the Eve Light. I'm reviewing the latest 2023 model here, not the older one, unlike many other review websites.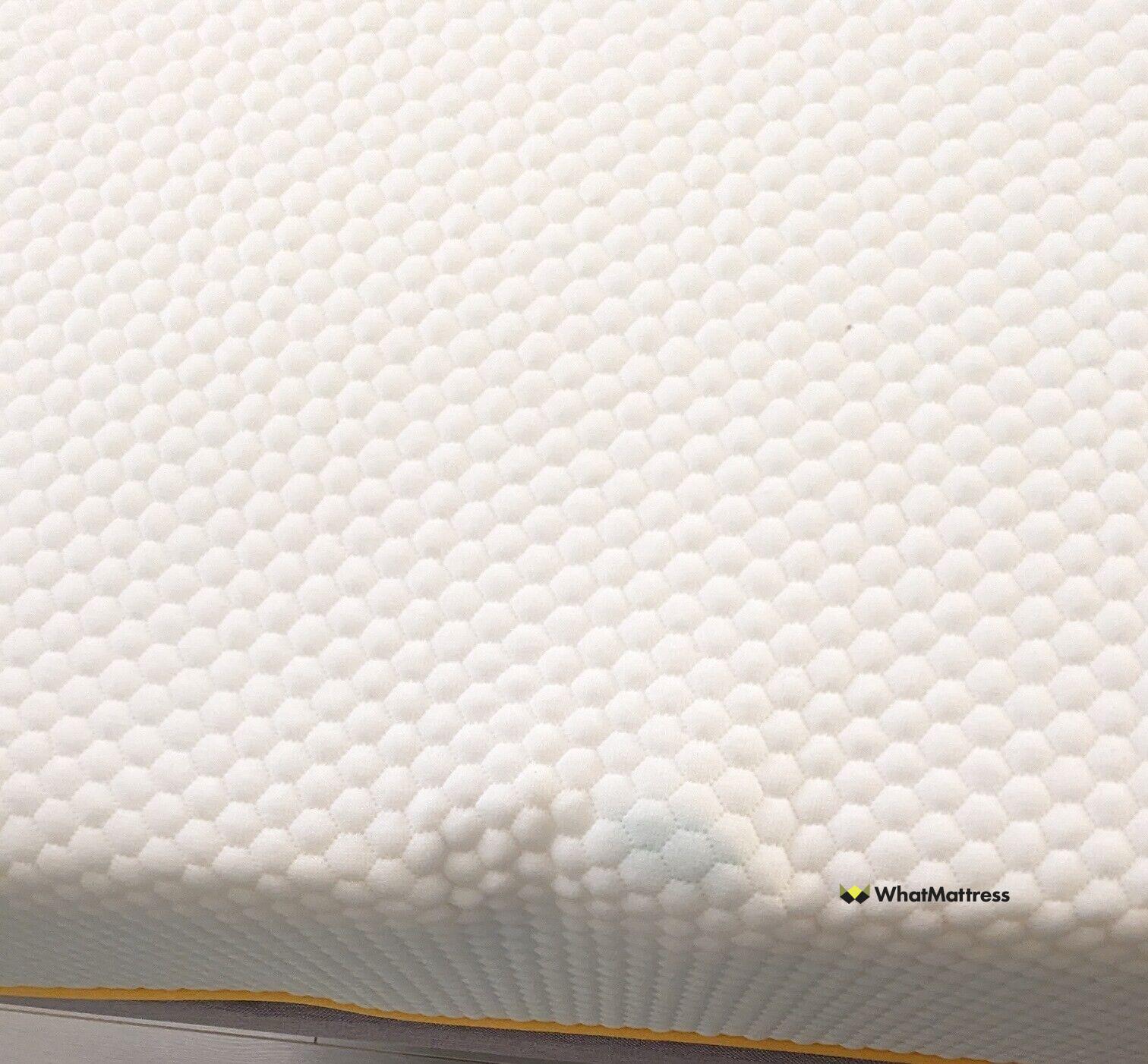 Eve Lighter: Layers
The Eve Lighter mattress has a straightforward two-layer design, and mostly provided a pleasant night's sleep. In terms of firmness, it may not surprise you that Eve claim it has "medium-firm" support – this is very common and all manufacturers claim this (so it's kind of useless). I'll touch on this later and how I rate the firmness.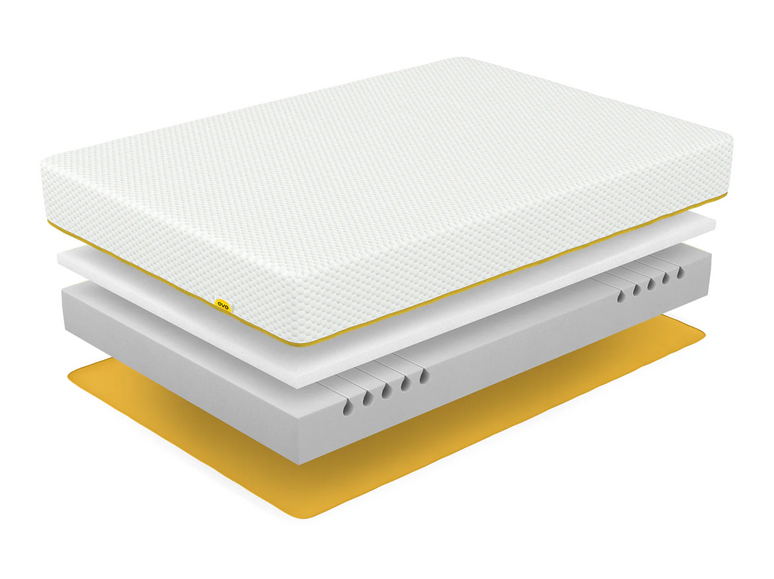 The first layer, called the "evecomfort" layer, is made from a proprietary memory foam blend that offers great support for bony areas and helps to keep the spine aligned during sleep.
The second layer, known as the supportive base layer, is made from thicker and stronger base foam that provides the necessary support for the sleeper's body. The base foam is also designed with special contour zones that help to ease pressure points, reducing the likelihood of discomfort and stiffness in the morning.
Together, these two layers offer medium-firm support and extra pressure relief, providing a comfortable and healthy sleeping environment.
I actually found the two-layer design offered a – surprisingly perhaps – supportive night's rest. The so-called Evecomfort layer was responsive enough to keep my spine straight as I slept and responsive enough to support teh weight-bearing areas like the hips or shoulders. The contour zones in the supporting base layer are designed for relieving pressure points and kept me from waking up stiff during the testing.
One potential drawback of the Eve Lighter mattress, in terms of its layers, is that it lacks a transitional layer between the comfort and support layers, which may be noticeable to some sleepers who are accustomed to a more complex construction. However if you want extra layers, you'll need to spend a bit more money, sadly – whether that is with Eve or any other company.
How firm is it?
In terms of firmness, like most Eve mattresses (and Simba too), I'd give it a firmness rating of 7.5 out of 10. This means it's pretty firm, but not overly so. If you're the sort of person who likes firmer mattresses then this might be the one for you.
The other drawback is that I just found it overly hot after a few hours of use. Sadly, the Eve Lighter's performance in maintaining a steady temperature wans't on par with that of the best all-foam cooling mattresses. But you can only ask so much of a mattress that retails at close to £250.
| | |
| --- | --- |
| Firmness Rating: | 7.5 /10 |
| No. of Layers: | 2 |
| Price: | From £299 |
| Thickness: | 20cm |
| Support Technology: | 5-zoned |
| Best for: | Front, Back Sleepers |
| Trial Period: | 365 nights |
Will benefit:
Those who prefer a firmer sleeping surface
Back and front sleepers
Those who weigh less than 75kg
Potentially anyone with spinal issues
Won't benefit:
Those who prefer a soft, plush sleeping surface
Side sleepers who require more cushioning around pressure points
Those who weigh more than 14 stone or 88kg (each).
Anti-slip base
Though not considered a 'layer', don't overlook the base cover.
The Eve Lighter mattress has a non-slip base, which you might be surprised to learn is actually quite rare for mattresses in this price range. The point of this is that it won't move around on your bed frame, and those who toss and turn in their sleep (or who sleep with a spouse who does so!) will appreciate this feature. It's a simple way to keep the mattress in place and I had no problems with the mattress shifting while I was sleeping because of Eve's non-slip coating.
Note that the anti-slip base not only prevents the mattress from moving about but also extends its lifespan. It helps the mattress last longer since less 'wear and tear' occurs as a result of it not shifting and rubbing against the bed frame. It's great that Eve have included this simple yet effective feature.
In testing: Firmness
The Eve Lighter mattress, from my experience of actually sleeping on it, I'd argue is best suited for front and back sleepers because of its firmnes (it's rather firm!).
But even when lying on my side, I felt OK. A sprung, slatted bed can function well here, as well as a solid base or divans. Note that this is a thinner foam mattresses so doesn't provide as much stability and support as thicker ones. While there was a bit more "give" than in the heavier Eve Original model, I never once felt that my hips had sunk too far or that I could feel the individual slats beneath me.
Just FYI, the amount of support a mattress provides is mostly dependent on the user's weight and not what's inside. Those of you who weigh less than 14 stone (each) shouldn't have any issues, but those who weigh more, or are on the heavier side, may find that it doesn't provide enough support long-term. Do remember that the Eve Lighter has a 365-night guarante though,, meaning can you try it out and see for yourself and send it back if not happy.
Here at WhatMattress we take mattress research seriously - all our product tests are done as fairly and honestly as possible.
That's quite a bold claim, but we're proud of the attention to detail that you're hopefully seeing within our reviews. Our methodology sets us apart from many other review websites. I like to think this is because WhatMattress is only run by two people - Carrie and Anthony. Over the years we've hand-tested multiple mattresses, pillow and other bedding products - so that you don't have to!
Every single mattress is put through its paces using the following tests:
We make sure to live with the mattress for at least a week.
We always sleep on the mattress we're testing - every single night.
We will always be 100% honest when we weigh up the pros and the cons of each mattress.
And in most cases, we've bought the mattress ourselves and haven't been given a free one.
What about heavier people?
Since it is a fairly firm mattress (Eve call it medium-firm), the Eve Lighter may not provide enough support for heavier or larger people – for example those over 15 stone.
The mattress' thinner foam design (20cm) compared to other models means it may not adequately support heavier body weights. Experience tells me that the 'Lighter' matterss will likely end up being overly squishy and unsupportive for a good night's sleep.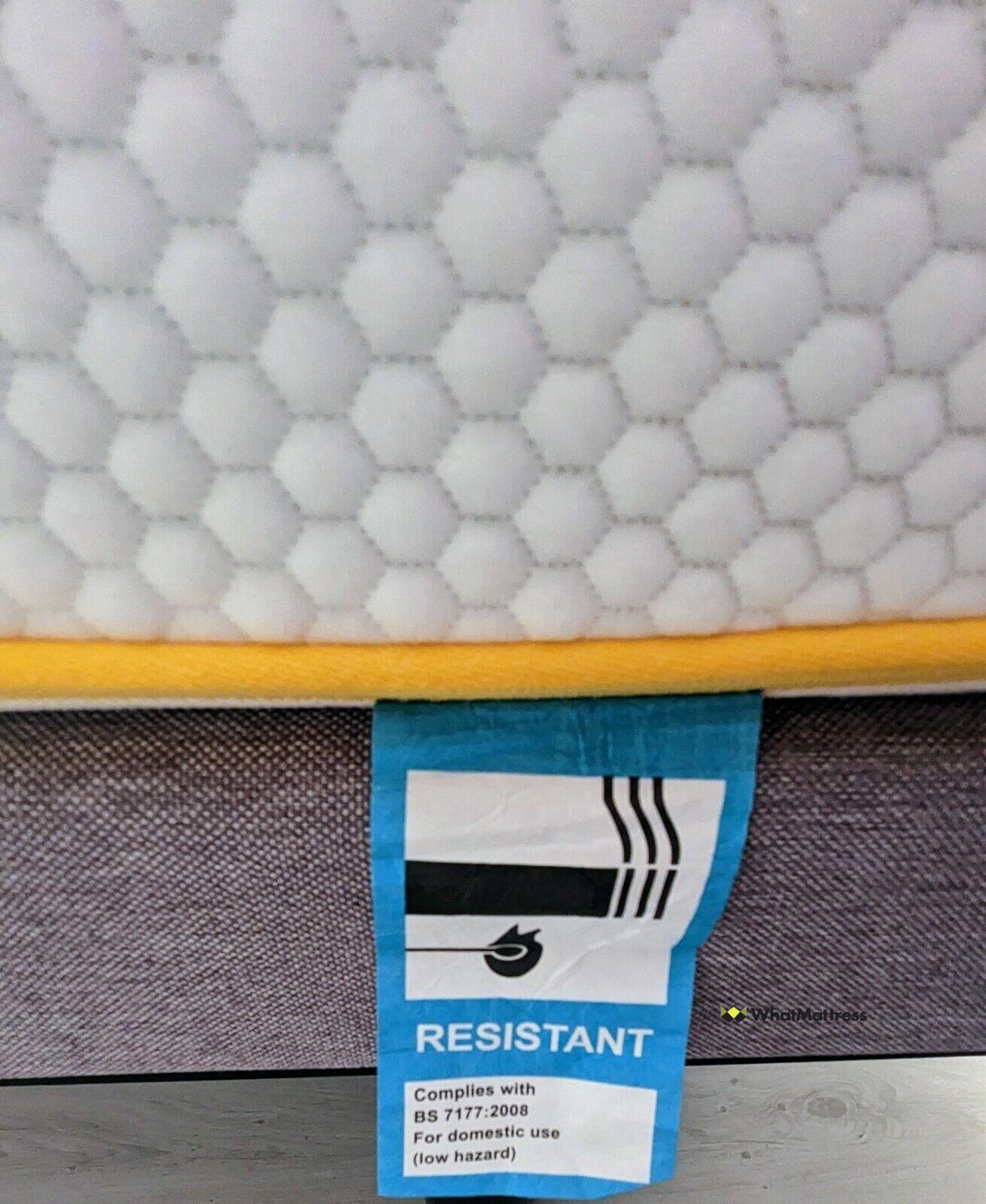 Other Eve Mattresses to consider
The Eve Lighter mattress that we are reviewing here, is a more affordable or 'budget' option when compared to either the Eve Original Hybrid and the Eve Original mattresses, as prices start from £299.
The Original Hybrid mattress is priced from £299 too (for a limited time – usually £399+), but features 4 foam layers and 800 pocket springs, making it 25cm thick. It also has 7-zoned support technology to relieve pressure on your shoulders and hips, and provides extra cushioning for your lower back.
The Eve Original mattress is the most expensive option, priced from £449, but is 24cm thick. It features 7-zoned support technology to relieve pressure on your shoulders and hips, and provides extra cushioning for your lower back. It is made of 3 foam layers and is designed for all sleep positions.
Here's a table showing the run-down side by side:
| Mattress 🛏️ | Layers 💤 | Price 💰 | Thickness 📏 | Support 🏋️ | Pressure Relief 🌡️ |
| --- | --- | --- | --- | --- | --- |
| Eve Lighter | 2 | £299+ | 20cm | 5-zoned | Okay |
| Eve Original Hybrid | 4 (hybrid) | £399+ | 25cm | 7-zoned | Good |
| Eve Original | 3 | £449+ | 24cm | 7-zoned | Good |
Sizing (UK)
There are only 3 sizes currently available in the UK, so sadly it's not going to suit all beds. It's a shame Eve don't offer more sizes, frankly.
| Size | Dimensions | Price |
| --- | --- | --- |
| UK Single | 90 x 190 cm | From £299 |
| UK Double | 135 x 190 cm | From £399 |
| UK King | 150 x 200 cm | From £499 |
| Super King | 180 x 200 cm | No longer sold! |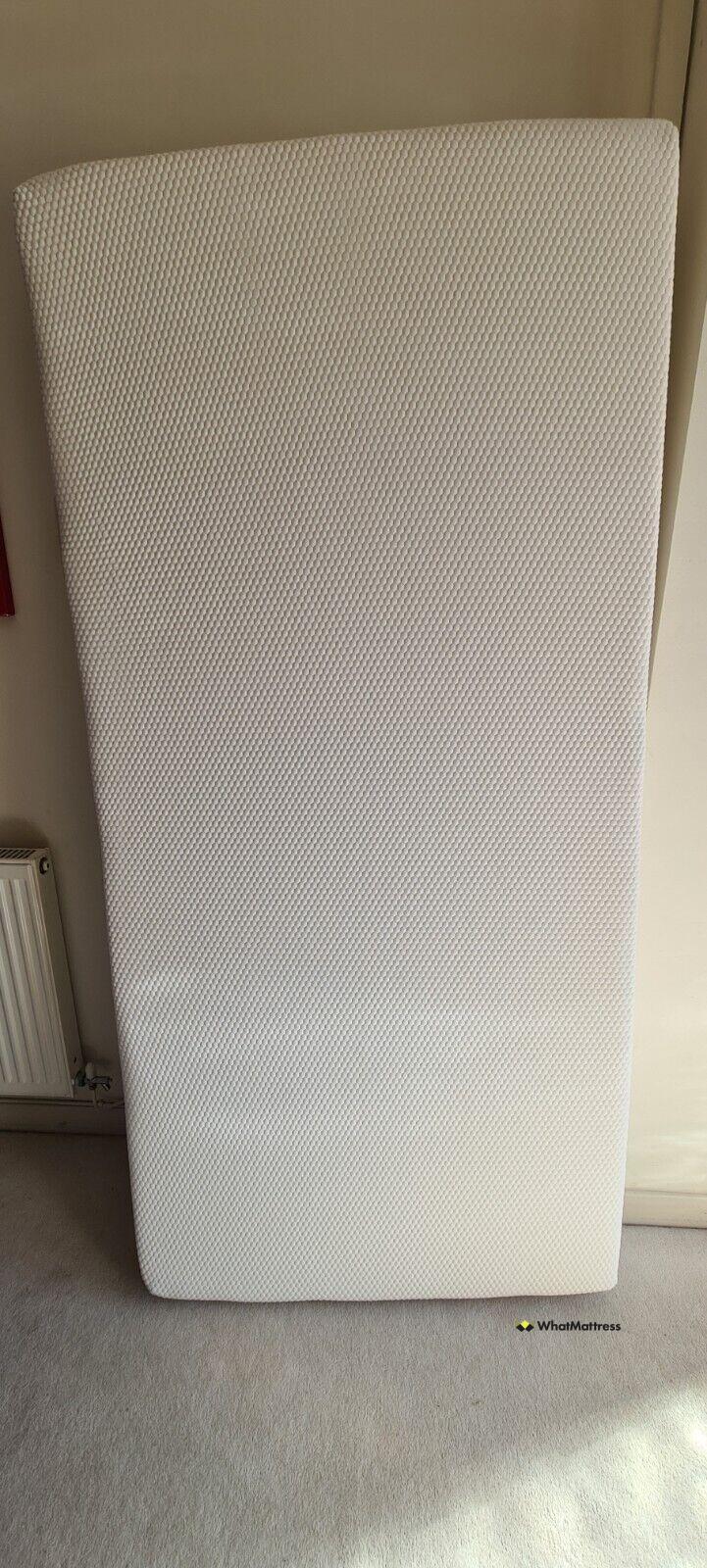 Discounts & Promos
It's entirely possible to save around 8% off using Eve mattress discount codes. Though you'll probably find that they don't work if there's a current promotion on.
For example, at the current time of writing, you can get 2 FREE memory foam pillows alongside the Eve Lighter mattress. The total is still £299: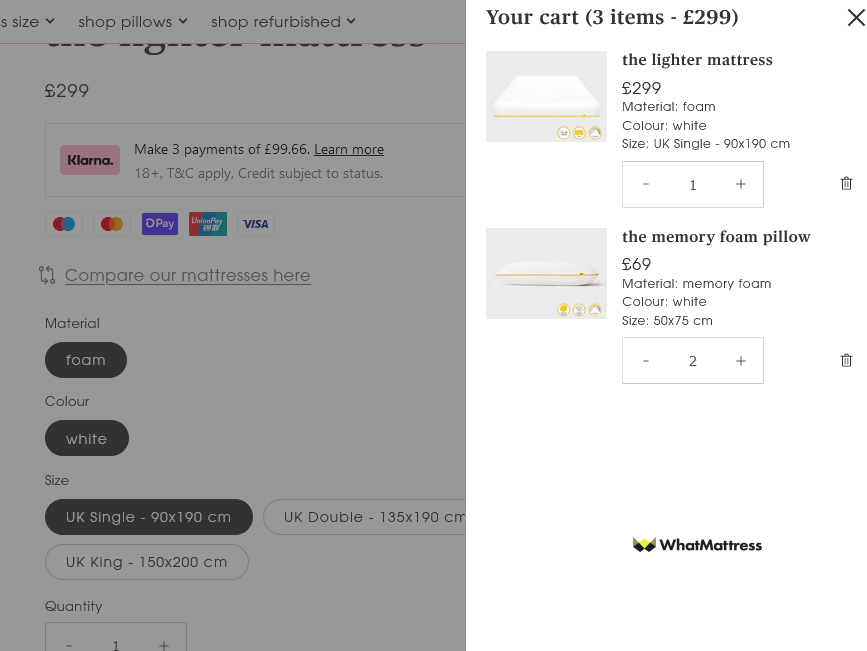 View all discount codes for Eve here.
About the sleep trial & warranty
Since being acquired by Bensons for Beds, the Eve Lighter (and all their mattresses) come with a 10-year warranty that protects you from defects in materials and workmanship, as well as sags and divots, as long as you've been using and caring for the mattress properly throughout that time. This ensures that you are purchasing a long-lasting and high-quality product.
The Eve Lighter not only comes with a warranty, but also a whole year (365-nights) to try it out. This means you get up to a year to try out the mattress and get a complete refund if you're not satisfied. That Eve is willing to offer such a substantial discount demonstrates the company's faith in its wares.
It's important to give yourself time to acclimatise to a new mattress and its degree of support and comfort during the trial period. The Eve Lighter comes with a 365-night risk-free trial, so you can sleep on it and see if it's the ideal mattress for you.
The Eve Lighter has a 10-year warranty and a 365-night trial, making it a low-risk investment for anyone in the market for a new budget mattress. As I mentioned above, it's the joint-longest sleep trial in the UK:
| Brand | Sleep Trial Length (days) |
| --- | --- |
| 🏆 Eve | 365 |
| Nectar | 365 |
| Emma Sleep | 200 |
| Simba Sleep | 200 |
| OTTY | 100 |
| Hypnos | None! |
Care & Eco-credentials
To keep the Eve Lighter mattress in its best condition, rotating it every now and then is recommended, though it isn't flippable (as you'll then be sleeping on the harder foam base!).
Eve claim that all foam materials used in the mattress are CertiPUR certified, and the washable top cover is OEK-TEX certified, which implies they're free of harmful chemicals. And given that these mattresses are made in the UK by a UK company, they are all made using foam that's CFC and PBDE free, and all components comply with UK fire regulations BS 7177:2008 +A1:2011.
Sadly, the Eve Lighter probably isn't recyclable and will end up in landfill, in all probability, once you replace it. If this concerns you, consider an organic mattress made partly of wool or latex – though you will  probably need to add another £500 minimum on top of the price of the Eve Lighter if going down that route.
Why You Can Trust WhatMattress
We're completely independent from any mattress company. We've spent countless hours curating and reviewing mattresses that anyone can buy in the UK, and have been doing so since 2018.
Mattresses tested:




82

Total hours testing:




602

Pillows tested:




24

Total hours testing:




183

Duvets tested:




35+

Funds spent on testing:




£7,500+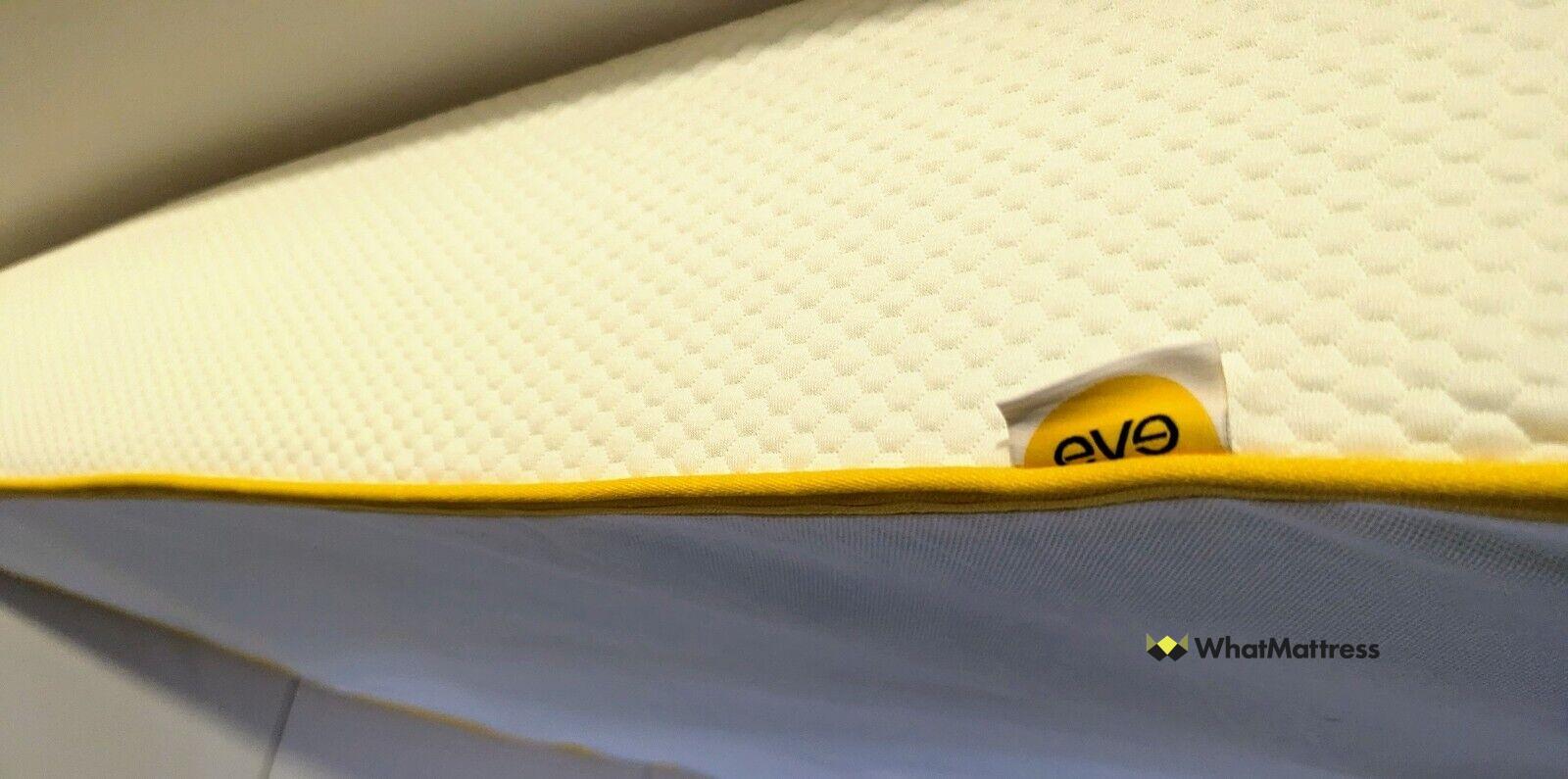 Verdict: Any good?
In conclusion, the Eve Lighter foam mattress is a fantastic choice for those seeking a reasonably priced, firmer, supportive mattress. Made in the UK, this mattress has the added benefit of being portable – while many mattresses weigh up to 60kg, the Eve Lighter adheres to its name – the single weighs around 16kg, so easily movable. Sadly there are no handles, so moving it once it's "up" will be up to you…!
The medium-firm support and added pressure relief provided by the mattress's dual-layer design make it suited for a wide variety of sleeping positions. It's perfect for back and front sleepers in particular.
The Eve Lighter's low price is one of its most appealing characteristics. Honestly, it wouldn't be fair to compare it to mattresses that retail at twice the price, so as a budget option, it's one of the better choices. It's affordable, but it doesn't skimp on quality or convenience. The 365-day free trial and 10-year warranty are nice bonuses, too.
Top Memory Foam Mattresses: Comparison
Read this next...
Was this article helpful?
Is the Eve Light the same as the Eve Lighter mattress?
Yes, they are the same, it used to be called the 'Eve Light' but is now called the 'Lighter' in the UK.
Can I use the Eve Lighter mattress on any type of bed base?
Yes, the Eve Lighter mattress can be used on any type of bed base, including solid, slatted, and sprung bases.
Is there a weight limit for the Eve Lighter mattress?
While there is no official weight limit, the Eve Lighter mattress is best suited for those who weigh less than ~88kg, as heavier individuals may find it lacks the necessary support.
How we reviewed this article:
Edit History:
Our experts continually monitor the mattress & sleep tech space, and we update our reviews & articles when new information becomes available.
22nd April 2023


Current Article - By Carrie Taylor

14th July 2023


Checked & Reviewed - By Jean Marshall

22nd April 2023


Copy Edited - By Carrie Taylor

22nd August 2023


Reviewed - By Carrie Taylor
WhatMattress has strict sourcing guidelines and we try to rely on peer-reviewed studies, academic research institutions, and medical associations where possible.