The Brook + Wilde Ultima is a luxurious and sophisticated mattress produced by the little-known British manufacturer, Brook & Wilde. This mattress, which actually went on sale in the UK in December 2020, is unlike any other in the Brook + Wilde collection.
Its 10 layers have been carefully designed to offer a restful night's sleep without overheating, plus each type of Brook + Wilde mattress comes in soft, medium, and firm options, allowing you to find the perfect fit for your own needs. But is it any good? Here we actually bought the "firm" Ultima for the purpose of this review, as this is the most popular option on sale.
But is it any good? Let's find out…
Brook + Wilde Ultima: Quick facts
We've gone in-depth with our review of the Brook and Wilde Ultima mattress – because we've actually bought one. No time to read all of the below? Don't worry, simply check below for the main pros and cons of the Brook + Wilde Ultima mattress:
Pros:
Reassuringly supportive
Effective cooling properties
Stylish and high quality
Choice of firmness level
100 night trial and 10 year guarantee
Free premium delivery service
Option to recycle your old mattress
Cons:
Expensive compared to other luxury mattresses
Heavy and difficult to manoeuver
Many layers might be unnecessary
May be too firm for some sleepers
Made to order, so delivery can take up to 3 weeks
Not available in Single size
The Ultima is the latest in the Brook + Wilde lineup after the eight-layer Elite mattress and the five-layer, best-selling Lux mattress. Until 2022 the Ultima was the most luxurious (and expensive) mattress in the Brook + Wilde collection. While it's true that no Brook + Wilde mattress is cheap, the company routinely runs sales and other promotions. These can help you save a considerable amount off of the RRP.
We put the Brook + Wilde Ultima through its paces to see how it stacks up against the competition for the best mattress. We've also set out to address a common concern: do the Ultima's 10 layers actually work well together in order to create a luxurious night's sleep, or is it all just a marketing ploy? In this comprehensive review of Brook + Wilde's Ultima, we'll talk about our results in further depth. So without further ado, let's dive straight into it.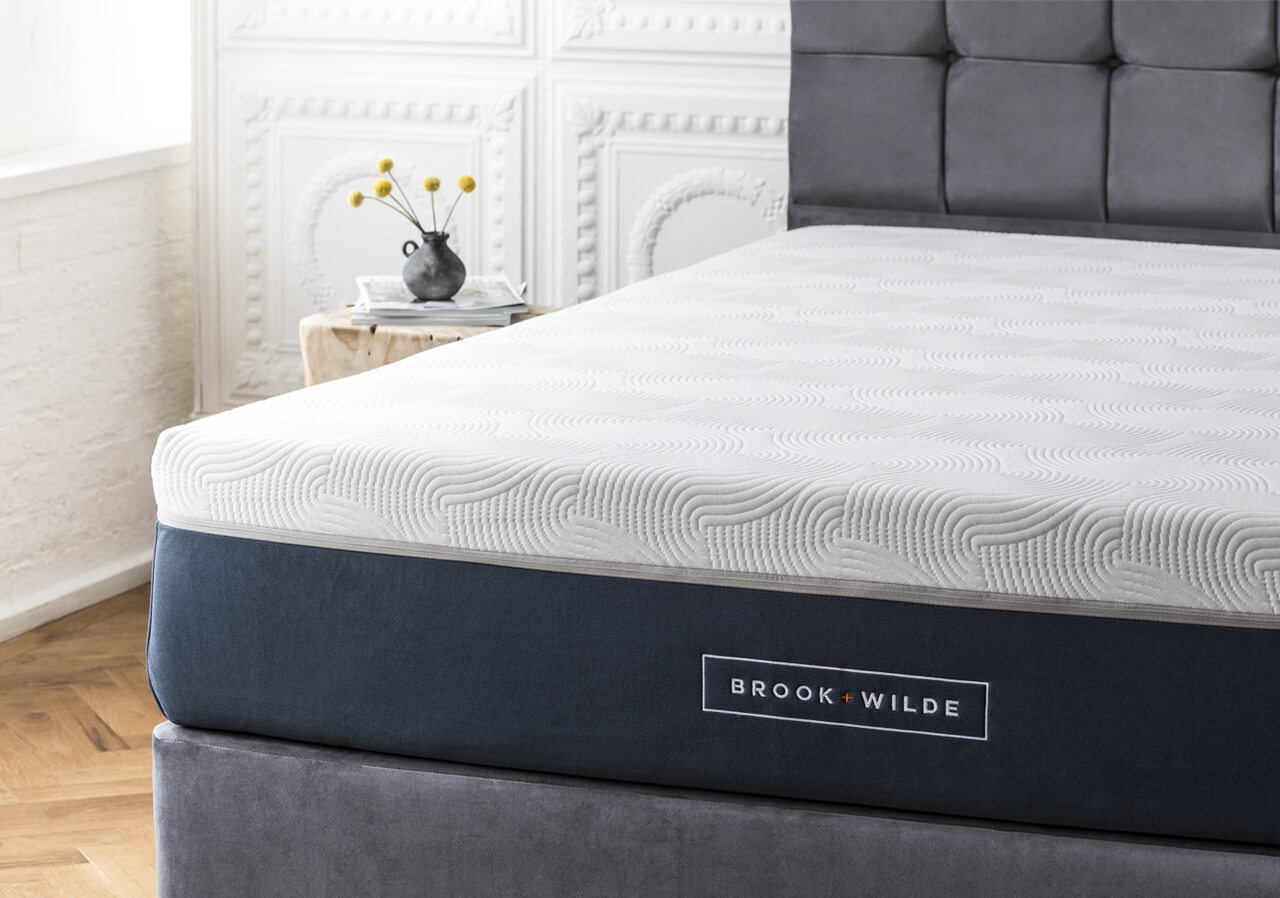 What do the 10 layers of the Brook and Wilde Ultima mattress consist of?
First, let's dissect the intricate construction of the Brook + Wilde Ultima mattress. In comparison to the other Brook + Wilde models, the Ultima has a completely different structure that places far more emphasis on cooling. One of the most common complains of memory foam and hybrid mattresses is that they cause people to feel too hot while sleeping, so effective cooling is an important issue. So what can you expect to find within the 10 layers that make up this beast of a mattress? To start with, the first layer (a/k/a the cover) can be easily removed and thrown into the washing machine to wash at 30°C, which is a significant feature for a mattress at this price point.
Layers of the Brook + Wilde Ultima
The cover is beyond just being practical though, because it also serves as a temperature regulator for the mattress.  And to lessen the likelihood of wear and tear on the cover, a layer of woven fabric sits beneath it. That's layer 2.
As we dive further into the mattress we can see that there are several layers of foam. Aurora memory foam, used in the uppermost layer beneath the cover and protective fabric, contains strategically-placed holes to increase ventilation as you sleep. The following – fourth – layer is made of more open-cell foam, which is also optimised to keep the body cool while sleeping.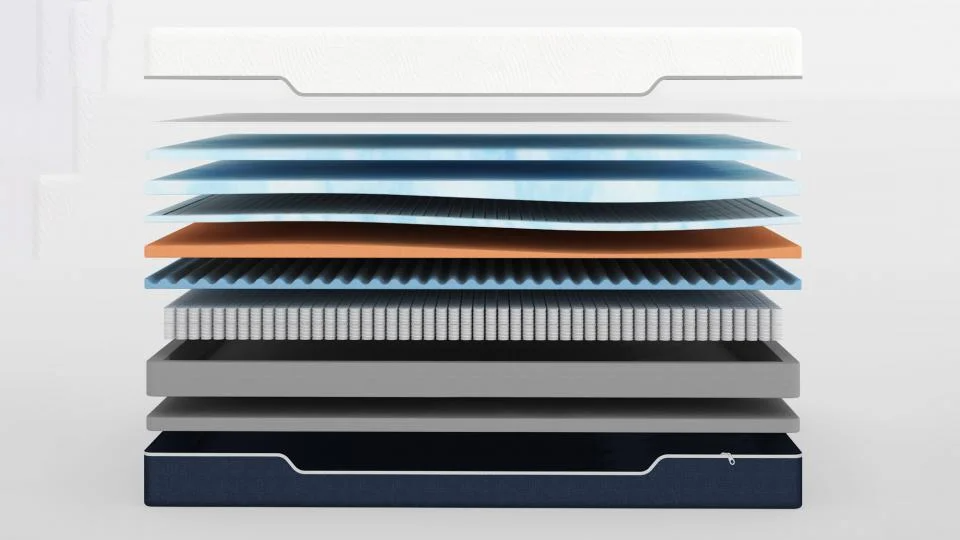 After this, the foam gives way to layer number five, which consists of no less than 2,000 2cm pocket springs dispersed uniformly across the entirety of the mattress. The sixth layer, again made of foam, has the role of adjusting the mattress's firmness to match your preferred amount of support. Underneath that foam layer is another one (layer number seven), which exists in order to encourage airflow and ventilation by drawing air right into the centre of the mattress.
Ultima: More foam (and springs)
In the eighth layer, even more pocket springs are added to the Brook + Wilde Ultima mattress. To further enhance the stability and longevity of the mattress, a second layer of 2,000 bigger pocket springs has been added. The mattress is then topped off (at the bottom) with a layer of high-density Ecotex support foam – layer nine. And finally there is  non-slip layer number ten to keep your mattress from sliding around on your bed base.
So while the Ultima mattress from Brook and Wilde does technically have 10 layers, it is definitely up for debate how many of these layers actually 'count' as layers. As there is no industry-recognised standard definition of a mattress layer, at the moment anything goes. And who are we to say what counts? Cue the beginning of a mattress layer-count war as the leading manufacturers compete to offer the most layers.
The Brook + Wilde Ultima mattress is aesthetically pleasing as far as mattresses go. It features a white textured top cover, a navy foundation, and a silver border in between, setting it apart from other Brook + Wilde products. The sturdy handles, which are embroidered with the B+W monogram, contribute to the mattresses high-end look. The Ultima, in comparison to the seven-layer Elite, has a classier-looking design. It's almost a shame to cover it up with a sheet.
Why You Can Trust WhatMattress
We're completely independent from any mattress company. We've spent countless hours curating and reviewing mattresses that anyone can buy in the UK, and have been doing so since 2018.
Mattresses tested:




82

Total hours testing:




602

Pillows tested:




24

Total hours testing:




183

Duvets tested:




35+

Funds spent on testing:




£7,500+
How comfortable is the Brook and Wilde Ultima mattress?
It can be hard to grasp the intricacy of the Brook + Wilde Ultima mattress's multi-layer construction when you're just lying on top of it. Yet, we cannot emphasise enough that the level of comfort provided by this mattress is unparalleled. We found very little give on the sleep surface of the Firm variant, and therefore give is a score it a 9 out of 10 for firmness. We've compared the Ultima Firm to the Elite Firm and determined that the latter is much more firm. But, it's important to keep in mind that the Brook + Wilde website has recently introduced a "Extra Firm" option, thus the ratings may have changed and may not help much when choosing the right mattress. Read on to find out why that doesn't matter as much as you may think though.
The Firm option is best for back sleepers because it could potentially cause shoulder pain for those who sleep on their side. But, there are also medium and soft variations of the Ultima available, so it really comes down to personal preference. Brook + Wilde allows you a free exhcange throughout the 100-night trial period if you find that you have selected the wrong firmness level – a very useful feature and in our opinion amazing customer service.
The top of the Brook + Wilde Ultima mattress is soft and cushioned, and the whole thing has a wonderful, buoyant vibe. You actually sleep 'on' this mattress, as opposed to the 'in it' feeling that you often get from memory foam and hybrid mattresses. The secret behind this is the fact that the top layer does not truly conform to your shape like a memory foam mattress would. This is largely thanks to the support zones that the Ultima mattress features.
Ultima mattress support zones
The Ultima, like the Elite, has various zones of foam to provide you more support where you need it most. Namely in your neck, shoulders, hips, and legs. Even though there is no perceptible change in firmness across the Ultima's top layer, the mattress appears to offer consistent levels of support from corner to corner.
The ventilation technology that is featured in the Ultima allows for a cooler sleeping surface, keeping it on average 2°C cooler than the Elite. Having slept on both the Elite and the Ultima, we can attest to the success of Brook + Wilde's claims that its design effectively regulates temperature.
Our primary issue with the Ultima, and this is a valid criticism of a number of high-end mattresses, is that the manufacturers appear to be piling on layers for no good reason. Several of these layers could likely be eliminated without significantly altering the sleeping experience. These mattresses have so many layers that they are incredibly heavy and cumbersome (30cm in thickness, meaning you'll require a deep sheet and likely more than one person to handle the Super King size variant).
Ultima mattress Wave Technology

Unlike other mattresses in its class, the Brook + Wilde Ultima mattress features innovative Wave technology. This ensures the correct level of support and pressure distribution for optimal spinal alignment while you sleep. The technology consists of four different zones as labelled above:
| Zone | Zone purpose | Key Features |
| --- | --- | --- |
| Zone 1 | Neck support | Supports your head and neck to keep them in line with your spine |
| Zone 2 | Shoulder support | Relieves pressure on the shoulders and provides support |
| Zone 3 | Hip support | Gives you targeted lumbar support by supporting the natural curves of your body |
| Zone 4 | Leg support | lower leg and foot support to assist in keeping your entire body completely aligned |
How long will it take for my Brook + Wilde Ultima to be delivered?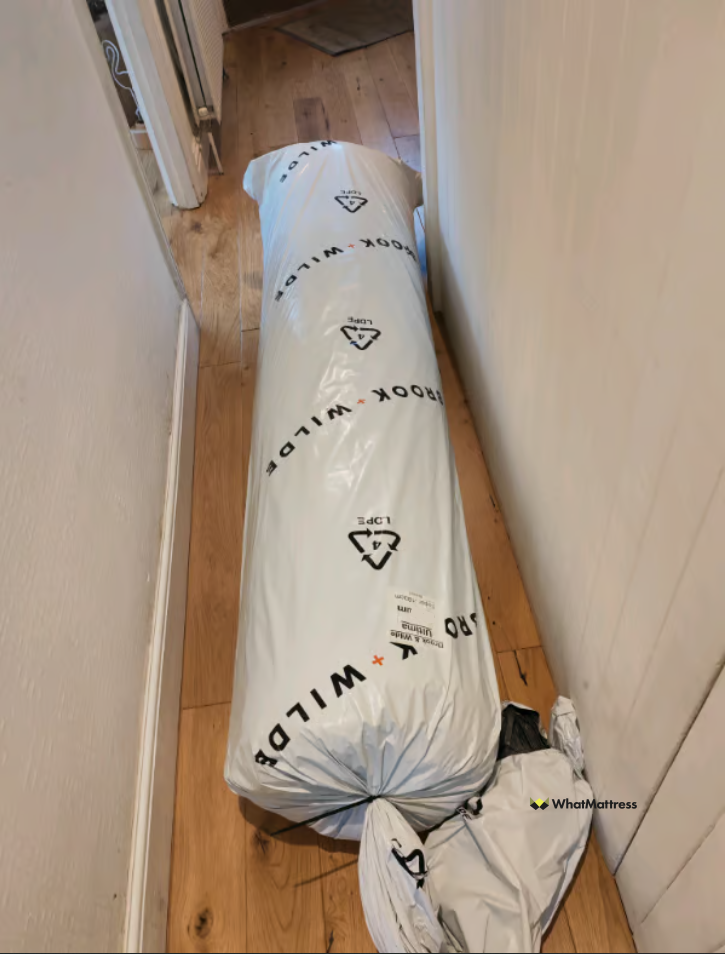 Like nearly all of Brook + Wilde's mattresses, the Ultima is made to order, which means that you'll need to wait around for 2-3 weeks for delivery. The brand provides a free premium delivery service, which involves expert couriers bringing the vacuum-packed, rolled, and boxed mattress to a room of your choice (you'll be thankful for this, as the Ultima is incredibly heavy), and setting it up for you. They will also take away the packaging for you. Again, a fantastic example of brilliant customer service.
According to the Brook + Wilde website, customers will receive a small luxury gift, such as a scented candle, to show their appreciation for supporting the brand. However, we're not sure whether this is an ongoing promotion or how many gifts they are giving out, so to avoid disappointment don't have your heart set on the free gift.
How long is the Ultima trial?
As is typical in the industry, Brook + Wilde offers a 200-night trial period during which customers can test out the Ultima. If you don't find it to your liking, they will switch it to a different firmness level, a different mattress, or refund your purchase entirely. You can't be any fairer than that.
Brook + Wilde will also recycle your old mattress for a modest fee of £25. When you consider how much of a job it can be to take a mattress to the recycling centre yourself we consider this to be a great service for a reasonable price. The Ultima mattress also comes with a 10 year guarantee, which is pretty much average these days for the higher-end mattresses so nothing to write home about.
The Brook & Wilde range is made up of the following mattresses and sometimes it's hard to avoid getting confused by the differences:
Brook & Wilde Lux
Brook & Wilde Elite
Brook & Wilde Ultima
Brook & Wilde Perla
In general, the first two (Lux and Elite) are cheaper mattresses with fewer layers, and compete with cheaper hybrid mattresses, such as the Simba Hybrid Original.
The Ultima and the Perla are more premium, and this is what I'm going to focus on here:
What are the differences between the Ultima and the Perla?
The Perla and the Ultima are two premium mattresses offered by Brook + Wilde, but they have some significant differences.
One of the most significant differences is the number of layers that each mattress has. The Perla has 14 layers, while the Ultima has 10 layers. The extra layers on the Perla are designed to provide added comfort, support, and breathability, making it an excellent choice for those who need more pressure relief and a cooler sleep surface.
Another significant difference is the types of materials used in each mattress. The Perla uses a blend of natural materials like silk, cashmere, alpaca, bamboo, and lamb's wool to provide a luxurious sleep experience. On the other hand, the Ultima combines memory foam, latex, and micro-springs to create a more supportive and pressure-relieving sleep surface.
In terms of cooling, both mattresses excel. The Perla uses natural materials that regulate body temperature, while the Ultima uses a cooling cover, breathable top layer, and dynamic airflow system to keep sleepers cool and comfortable throughout the night.
Check out my full hands-on review of the Brook + Wilde Perla mattress here.
Here at WhatMattress we take mattress research seriously - all our product tests are done as fairly and honestly as possible.
That's quite a bold claim, but we're proud of the attention to detail that you're hopefully seeing within our reviews. Our methodology sets us apart from many other review websites. I like to think this is because WhatMattress is only run by two people - Carrie and Anthony. Over the years we've hand-tested multiple mattresses, pillow and other bedding products - so that you don't have to!
Every single mattress is put through its paces using the following tests:
We make sure to live with the mattress for at least a week.
We always sleep on the mattress we're testing - every single night.
We will always be 100% honest when we weigh up the pros and the cons of each mattress.
And in most cases, we've bought the mattress ourselves and haven't been given a free one.
So how much is the Brook + Wilde Ultima mattress?
See the table below for the RRP of the Brook + Wilde Ultima mattress
| Bed Size | Price | Size (cm) |
| --- | --- | --- |
| Double | £1,799 | 135 x 190 x 30 |
| King | £2,099 | 150 x 200 x 30 |
| Super King | £2,499 | 180 x 200 x 30 |
As you can see there is no option for single beds, as unfortunately the Ultima is not available in Single size. We've reached out to Brook + Wilde to ask whether a single will be available soon and they say that they have no plans to make the Ultima in this size at present, but this could change in the future if it becomes a viable product to manufacture and market.
Similar mattresses to the Brook + Wilde Ultima
The Simba Hybrid Luxe mattress was launched in 2021 has a similar list price of £1,599 for a Double size. The Simba Hybrid Luxe is 31 centimetres deep, which is 1cm deeper than the Brook + Wilde Ultima, but we found it to be of comparable quality and comfort during the night.
Frankly, this is a route that should be investigated further if you're looking for an alternative to the Ultima mattress – for example if you wish to remain loyal to the Simba brand or if for any reason you wish not to do business with Brook + Wilde.
The next-lowest model, the Brook + Wilde Elite, is nearly 50% percent cheaper than the Ultima, with an RRP of £1,199 for a Double size. The Simba Hybrid Pro and the Eve Premium Hybrid are two more luxury hybrid mattress options in the same price range as the Elite. They both come in at less money than the Elite as well (at £1,119 and £999 for a Double, respectively).
It's unlikely that you'll pay full retail price for a mattress, though, because manufacturers regularly run sales and reductions and you can also often get discount codes. Check out our best current bargain on a Brook + Wilde mattress by going to our mattress deals page, or see what other companies are currently providing by looking at our list of the best cheap mattress deals.
My verdict: is the Brook + Wilde Ultima worth it?
The outstanding quality of the Brook + Wilde Ultima mattress can't be denied. It offers exceptional back support, has efficient cooling capabilities, and looks and feels very high-end indeed. The ability to choose (and swap) the firmness is a brilliant addition, in our opinion and is indicative of customer service from a company that really cares. Although often overshadowed by more well-known brands like Eve and Simba, we still consider Brook + Wilde to be a top-tier mattress manufacturer. And the Ultima mattress is without doubt their top product to date.
However this leads me to the Ultima's biggest drawback – the top-end asking price. I had no complaints about the Elite's quality or comfort either, but liked it a lot more simply due to the fact that it is so much cheaper than the Ultima. While the Ultima is more aesthetically pleasing and may have marginally superior cooling capabilities, the Elite is the better value option in my opinion.
The Ultima is the way to go if you want the very best and can afford to spend a lot of money on it (or take advantage of a great big fat discount to bring down the price). Nonetheless, we think the Elite is a better deal for the general public because it represents better value for money in terms of sleeping experience and pounds spent.
Top Hybrid Mattresses: Comparison
Read this next...
You may also like...
Was this article helpful?
What is the warranty for the Ultima mattress?
The Ultima mattress comes with a 10-year warranty, giving you peace of mind and protection against manufacturing defects.
Is the Ultima mattress suitable for couples who have different firmness preferences?
Yes, the Ultima mattress comes with a unique support layer that allows you to choose between soft, medium, firm, or extra firm support. This means that you and your partner can choose the level of support that is most comfortable for each of you.
How we reviewed this article:
Edit History:
Our experts continually monitor the mattress & sleep tech space, and we update our reviews & articles when new information becomes available.
27th April 2023


Current Article - By Carrie Taylor

25th April 2023


Checked & Reviewed - By Morag Park, Ph.D.

18th April 2023


Copy Edited - By Anthony Maxwell

18th April 2023


Reviewed - By Anthony Maxwell
WhatMattress has strict sourcing guidelines and we try to rely on peer-reviewed studies, academic research institutions, and medical associations where possible.