A mattress topper can be a great alternative to buying a new mattress. For starters, it's much cheaper to buy a mattress topper than to replace your current mattress. Not only that, but with a wide range of toppers available you are bound to find one that's right for you. There are four main types of mattress toppers:
Natural fibre mattress toppers
Synthetic mattress toppers
Memory foam mattress toppers
Latex mattress toppers
Natural Fibre Mattress Toppers
Natural fibre mattress toppers range in price from around £50 to as much as £300. As the name suggests, they often contain natural materials such as wool, feathers, duck down or even goose down. Duck and goose down are very soft, but can play havoc on people who suffer from allergies. Wool is better for allergy sufferers, however it's not as soft. The same applies to feathers.
Synthetic Mattress Toppers
Synthetic mattress toppers tend to be made mainly from polyester. Another word often used to describe a synthetic topper is 'microfibre'. These are the cheapest type of mattress topper available and usually start at just £20 for a double-sized one.
Memory Foam Mattress Toppers
Memory foam mattress toppers are great for people who suffer from allergies. Also sometimes known as visco-elastic mattress toppers, they are very soft because they mould around the contours of your body. Some people do not like the sinking feeling that memory foam provides, but it's a personal preference. People also tend to find them quite hot. People who weigh more tend to sink more into memory foam, so if you weigh more than 16 stone then it's probably one to avoid.
Latex Mattress Toppers
Latex mattress toppers are made from rubber, which is also a natural material. These are probably the most expensive type to buy, as prices start at around £100. However this is still considerably cheaper than even the cheapest mattress available from most mattress retailers.
When it comes to popular opinion, most people think that natural materials are better than synthetic ones. However, when it comes down to it, it depends on your personal preference and how you like to sleep.
Best Synthetic Mattress Toppers
If you are just looking for a cheap and cheerful mattress topper for a spare bed, or you're on a budget, then a synthetic mattress topper will probably be the best bet for you. Here are two of the best:
Sealy Select Response Mattress Topper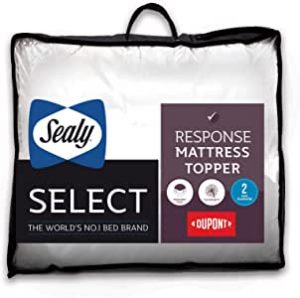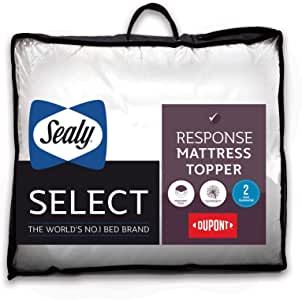 The Sealy Select Response mattress topper is just £25 and has a finely woven microfibre cover. It is main feature is the 'DuPont silk-like fibres', which although is synthetic is supposed to offer the smoothness of silk. Being synthetic it's also better for those who suffer from allergies than a mattress topper made from natural fibres. Sealey is one of the world's largest bed manufacturers.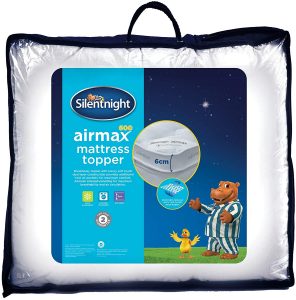 Silentnight Airmax Mattress Topper
When it comes to mattresses, one of the first UK manufacturers you're bound to think of is Silentnight. The Silentnight Airmax mattress topper is made from polyester, which means that it has the added bonus of being machine washable. At just £49 for a king-size mattress topper,t he Airmax is a good choice as it has thousands of good reviews online.
Best Memory Foam mattress toppers
When it comes to memory foam mattress toppers, you're spoiled for choice as there are literally dozens of them available. Here are three that we think are the best:
Panda Mattress Topper
The Panda mattress topper is priced at £159, but the good thing about it is the fact that it comes with a 30 night home trial period. This means that if you don't like it they will arrange to come and collect it and offer you a refund (subject to their Terms and Conditions). A home trial is nothing new when it comes to buying a mattress, but for one to be offered with a mattress topper is actually quite rare. So Panda themselves obviously think their mattress topper is good, and judging by the reviews online it would appear that the majority of their customers agree. Unlike traditional memory foam mattress toppers, the Panda topper contains memory foam that is mixed with a gel. The result of this is a topper that doesn't make you feel too hot. It also features a cover made from bamboo, making it naturally antibacterial and highly breathable. At 50mm thick it is also quite substantial compared to other memory foam toppers on the market.
Silentnight Impress Mattress Topper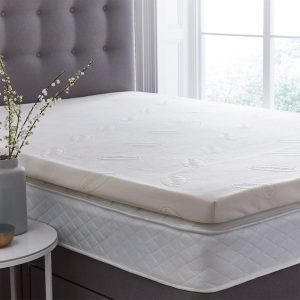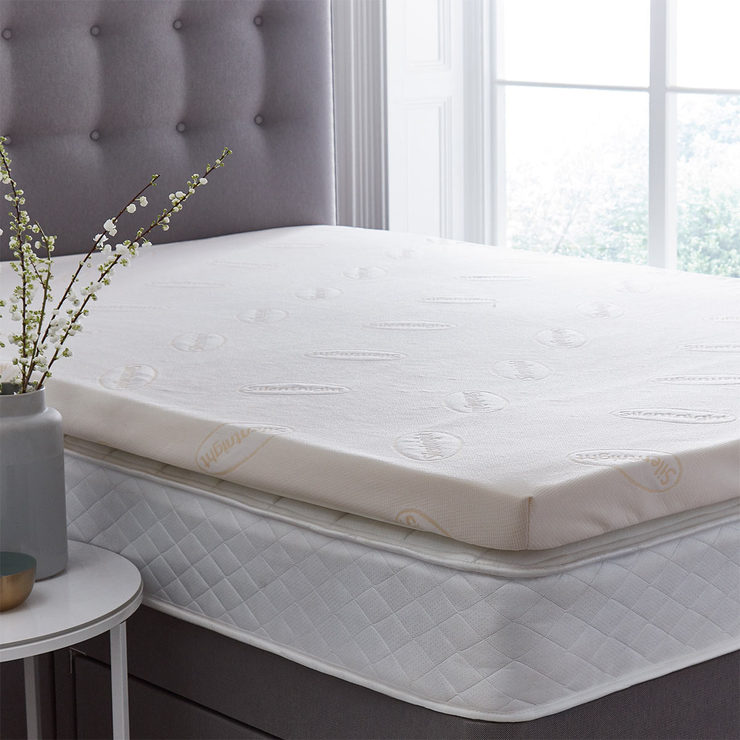 The Silentnight Impress memory foam mattress topper comes highly rated and is available in both 25mm and 50mm thicknesses, for £50 and £130 respectively. If you can afford it, it's definitely better to get the 50mm thick variant. Being made from memory foam – a synthetic material – it's great for those who suffer from allergies. If you don't like the sinking feeling that memory foam has to offer, then this might not be the mattress topper for you though.
Tempur 7 Mattress Topper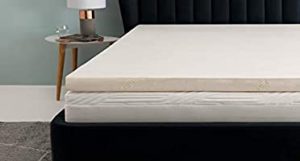 The Tempur 7 mattress topper costs a staggering £925, which is about the same price as a good mattress. But why is it so expensive? Well, Tempur are famous for their luxurious memory foam. Alongside NASA they developed memory foam mattress technology that has so far been unparalleled by rival mattress manufacturers. When you consider that their cheapest mattress is around £2,000 you may think that £925 is quite a good price for what you get.
Best Natural Fibre mattress toppers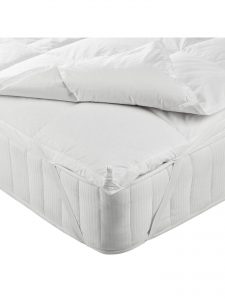 The John Lewis and Partners Goose Down mattress topper is actually a 70:30 split of goose down and goose feather. Goose down is very soft but it's also very expensive. Generally speaking, the more down within a mattress topper, the more money it will cost. The feathers add firmness to the topper, so they're important too. It's all about getting the right balance which it appears John Lewis and Partners have done perfectly here. Because it contains a lot of natural fibres, this is not recommended for anyone who suffers from allergies.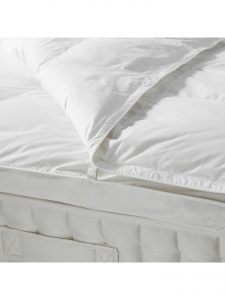 If you're looking for a little bit more firmness, then John Lewis and Partners also have a natural Duck Down mattress topper, which has a 50:50 split of duck down and feathers. It has been rather cleverly sealed so that dust mites aren't a problem. This makes it suitable for people who are allergic to dust mites, as well as those who have asthma. At £140 you get a lot for your money, but don't forget that with that kind of money to spend you could be looking at some mid-range mattresses instead.
Best Latex mattress toppers
As latex mattress toppers are quite pricey, there's not that much demand for them. As a result there isn't a huge market so there aren't that many retailers that sell them. Yanis is probably the best-known brand for latex mattress toppers. They offer two different latex toppers, with the only difference between them being the thickness. Their cheaper option is 50mm and costs £225 for the king-size variant. The thicker version is 80mm thick and costs £305 for the same size. With latex being a natural material it is good for those who suffer from allergies, and it's a good alternative to memory foam. Some people don't like the 'sinking' feeling that you can get from a memory foam mattress topper, so a latex topper is a good alternative in this instance.