They're two of the biggest UK brands for hybrid mattresses but do have some key differences. So you've decided that you really do want a hybrid mattress and are aware of the pros and cons, but aren't sure if  OTTY or Simba Sleep give you the best bang for your buck.
To be clear, I am only reviewing the hybrid from each company. You may be aware that both of these companies have multiple mattress-in-a-box products — but I am focusing on the hybrids only. In this case, OTTY Pure and Simba Hybrid. The Simba Pro is deeper and has more springs, but it also costs more, so I am keeping it simple by reviewing their most popular mattress.
So without further ado let's delve into the Simba versus OTTY review and find out which one has the best durability, best value, firmness ratings and much more.
OTTY vs Simba Comparison – Quick Facts
For this OTTY vs. Simba mattress comparison, here's a quick rundown of the facts. If you want to read more about each point then keep scrolling down.
So which is best?
I'd have to go with the OTTY Mattress, because it's cheaper, fully latex-free and has machine washable covers. However it may be too firm for some, particularly side sleepers, so you may want to opt for the Simba.
Otty Hybrid vs Simba Hybrid: Design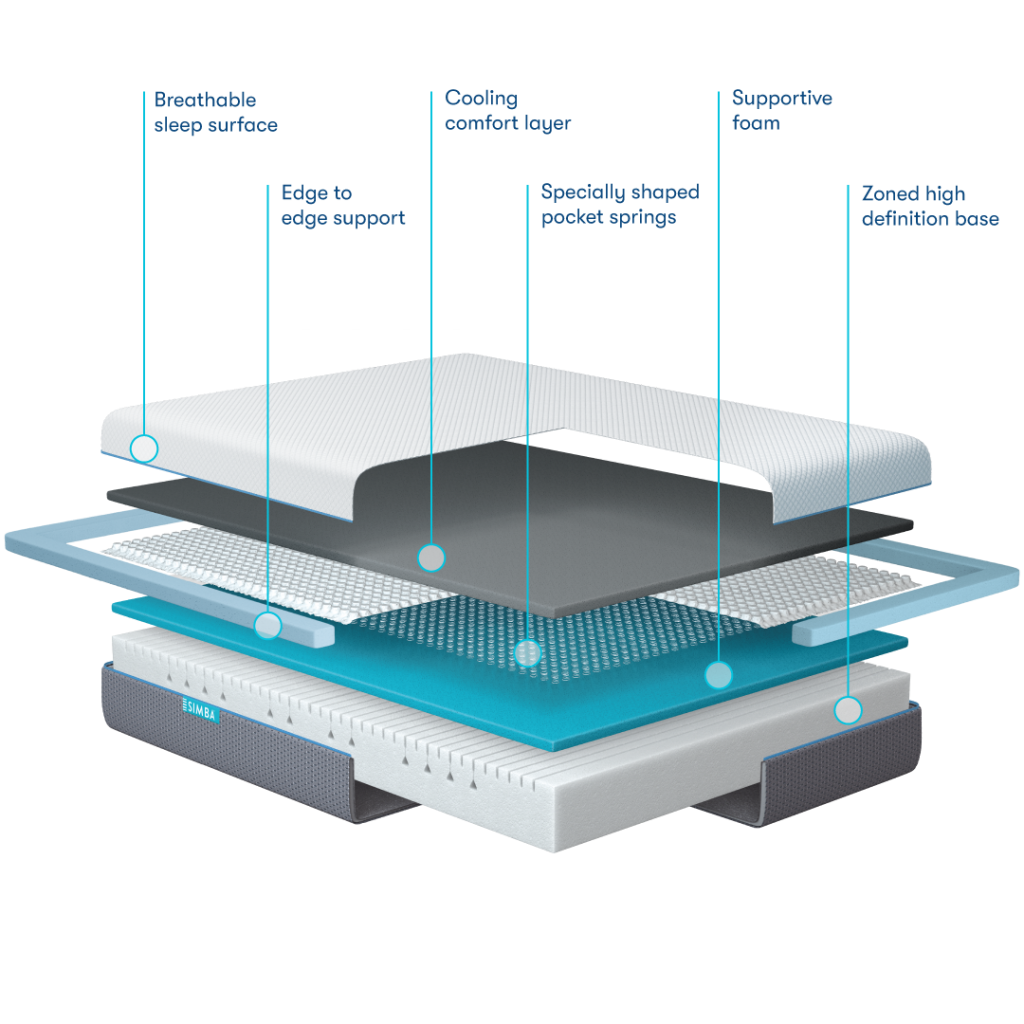 The Simba Hybrid mattress is 25cm deep, no matter which size you choose – this is the same depth as the OTTY, and indeed most mattresses on the market today are this same thickness. Simba combine different foams with a layer of 2,500 conical pocket springs, which is 500 more than the Simba. For a deeper mattress and double the number of springs, you could always shell out a bit extra for the Simba Hybrid Pro.
The Simba Hybrid has a five-layer design:
The first layer is a hypoallergenic sleep surface that helps to regulate temperatures and can be removed and washed.
The next layer is a comfort layer that mimics latex called 'Simbatex' and again, promotes general cooling.
Then you have the pocket spring layer, designed to limit movement and stop you feeling if there's anyone else moving around in your bed.
Finally, there's responsive memory foam layer also called "supportive foam" (this is the blue layer), and;
Then a zoned base to offer you support in all the right places as you sleep.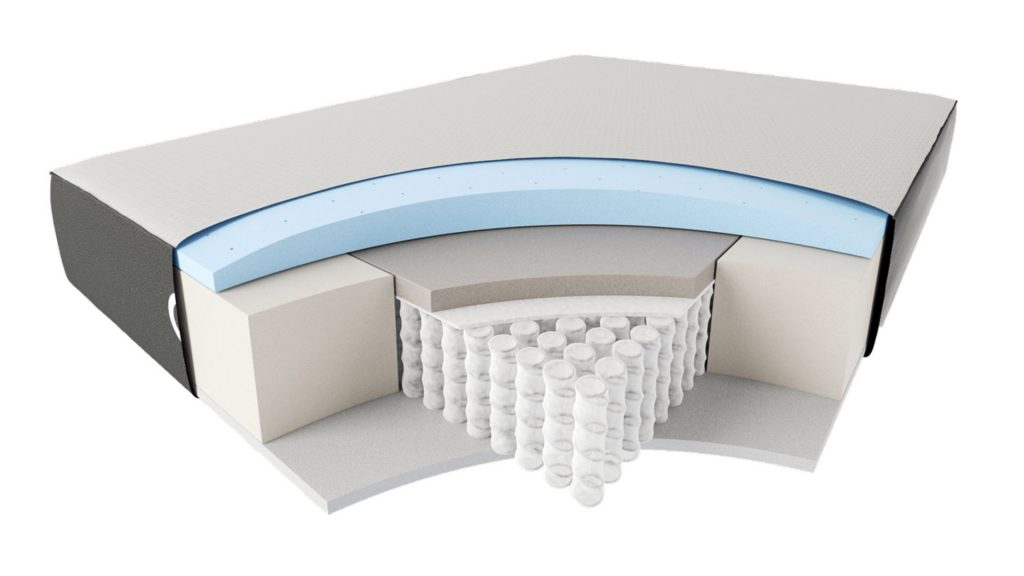 The OTTY Hybrid also has five layers:
Hypo-allergenic cover which is machine washable , where the Simba's isn't.
Temperature-regulating foam: delivering a good night's sleep by keeping you at the perfect temperature.
So-called Reflex Foam is used to provide comfort and additional support
2000 encapsulated springs (pocket spring)
And finally an "HD" foam base i.e. bolster support level
I have no idea what HD foam is, I assume high density, but this isn't ever mentioned or quantified on the OTTY website.
Note that the OTTY Pure is a slightly different take on the above Hybrid; it also offers similar levels of comfort but also has a charcoal-infused memory foam section that aids hygiene and cleanliness. I am working on a review of OTTY Pure and will update it here shortly.
Simba vs OTTY price comparison
UK pricelist: Simba Hybrid  / OTTY Hybrid
The first price is for the Simba, the second is for the OTTY.
Single: £549 / £374.99
Small Double: £749 / £549.99
Double: £749 / £599.99
King: £849 / £699.99
Super King: £949 / £799.99
Emperor: Not available / £849.99
So as you can see, OTTY prices are cheaper in every case, and often by about £100 or more.
What does this mean for your wallet? Well, quite simply, even if you are using a discount code for either brand, it is still likely that the OTTY will be cheaper overall.
Firmness
A timely reminder that there is no one-size-fits-all firmness rating or industry-agreed standard here, so each firmness rating is according to the manufacturer and my own hand-reviews that I sometimes do.
OTTY rates their own Hybrid as being medium to firm, giving it a 7 out of 10 (with 10 being the hardest) and we think this is about accurate. The combination of foam and spring does make the mattress feel firmer than many other rivals.
There is certainly more bounce with an OTTY than the Simba. Note that you can feel the springs are definitely present with the OTTY when pushing down from a standing position, and yet you can't feel them when you lie down, and this mattress does offer excellent support no matter your preferred sleeping position.
Simba users praise the mattress for being long-lasting, good for side sleepers and not heating up overnight. There are some reports that the Simba doesn't offer the best support for back sleepers (although other back sleepers have found it fine) and it can be difficult to turn over due to the spring layer.
This review doesn't touch on pillow reviews, but if you want to find out more about the similar (but cheaper) Simba Hybrid Pillow read my full review here.
FAQs
What sizing is the OTTY Hybrid in the UK?
Pretty regular, there is no EU size here. The weight and sizes of the Hybrid OTTY mattresses are below:
| | | | |
| --- | --- | --- | --- |
| | Mattress Size (cm) | Shipping Weight | Box size (cm) |
| Single | 90 x 190 x 25 | 25 | 95 x 44 x 44 |
| Small Double | 120 x 190 x 25 | 30 | 125 x 44 x 44 |
| UK Double | 135 x 190 x 25 | 35 | 142 x 44 x 44 |
| EU Double | 140 x 200 x 25 | 38 | 148 x 44 x 44 |
| King | 150 x 200 x 25 | 45 | 158 x 44 x 44 |
| EU King | 160 x 200 x 25 | 50 | 168 x 44 x 44 |
| Super King | 180 x 200 x 25 | 55 | 188 x 44 x 44 |
| Emperor | 200x200x25 | 60 | 208 x 44 x 44 |
What other competitors are there?
Quite a few hybrid mattresses are around now. Emma mattress do a hybrid too, and are arguably the market leader so you can read my review on this here.
If you aren't sold on the idea of a Hybrid mattress then be sure to check out my best memory foam mattress reviews here.
Are there any discount codes for OTTY and Simba?
Yes, both of these companies are in a lucrative, competitive market and are looking for ways to get more customers. One of the easiest ways to 'convert' new customers is to offer decent discounts and promotions. For example, if you time it right, you could get a whopping -40% off the OTTY range using a special voucher code. I often update the list so check the OTTY review page for the best promotions available currently.
Conclusion: So which is best?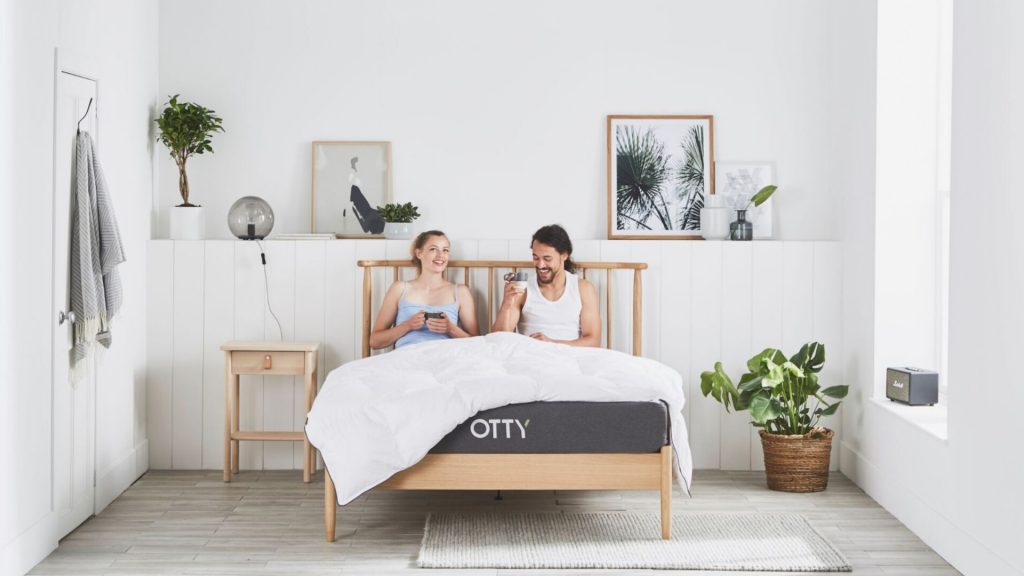 Simple really, the OTTY Hybrid is my favourite and I'd recommend you try it on their 100-night trial. I know that isn't as long as the Simba trial (which is double, or 200 nights) but arguably a lot of these trials aren't all they're cracked up to be anyway.
If you're on a budget but really want a hybrid rather than straight-up memory foam, then the OTTY is the hands down winner. It'll cost you about -£200 less than the Simba, and yet it has deeper springs and thicker fabric which you can really feel when you touch it physically.
The only real downside of the OTTY is that it's made in China and some may have reservations about that, but given the reduced price I can't see why it'd be an issue with most users.
Discount codes for Simba and OTTY
Both of these companies often have promotions, coupons and discount codes for the UK. Here I have collated the best two, for each company.
If you want to browse my entire list of mattress discount codes for each brand then click here. Alternatively I have a dedicated page for Simba Sleep discount codes here.