Your mattress is probably one of the top 10 most expensive single items within your home. Not only that, but it is also one of the most frequently used items that you own. In that case, wouldn't it make sense to look after it and protect it?
Many people admit to having the odd cup of tea or snack in bed. This can often result in unwanted spillages and soiling that your sheet simply might not be able to protect your mattress against. This is why another line of defence is needed.
A mattress protector can give you the extra line of defence that you need in order to protect your investment. If used correctly, a mattress protector will protect your mattress from the everyday abuse that gets thrown at it. It will also prolong the life of your mattress.
To get the most out of your mattress protector, it's important to get one that is of good quality. You can't go far wrong if you purchase your mattress protector from the same company that you're your mattress. Here are some of the best mattress protectors that we've seen recently.
Emma mattress protector – from £99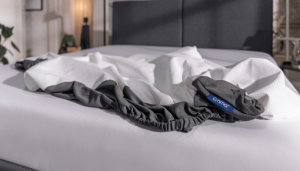 Emma is widely regarded as one of the best mattresses that money can buy. The reviews all over the internet speak for themselves. Those who have taken the plunge and purchased the Emma mattress will only want to protect their investment with the best possible mattress protector. This is why Emma make their own.
You don't have to own an Emma mattress to buy an Emma mattress protector. The Emma mattress protector comes in various sizes so it's simply a case of finding the right size for your mattress.
One of the great things about Emma is their level of customer service. When you buy a Mattress from Emma, you will get the same 200-night trial period that you will get if you buy the Emma mattress. This means that you will have plenty of time to get used to your Emma mattress protector and make sure that it is right for you. It's not often that you expect to buy bedding and get complete peace of mind with it.
What we like about the Emma mattress protector is the fact that it is 100% waterproof. This means that you can have that guilt-free cup of tea in bed in the morning. The Emma mattress protector is also anti-allergy, so it will help to protect you against dust mites and the like.
Simba mattress protector – from £55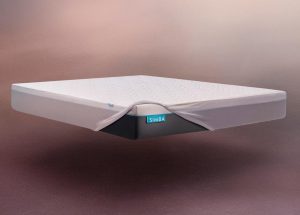 The Simba mattress protector is almost half the price of the Emma one. This makes it very affordable,  and a great way to protect your mattress, even if you've purchased a mattress from a company other than Simba.
The Simba mattress protector has been designed in such a way that you won't even feel or notice it when you are asleep. It's made from a unique mix of materials which includes a Tencel and polyurethane layer. This not only helps with temperature regulation, but also means that the mattress protector stays breathable.
The Tencel material is not only responsible for the breathability of the Simba mattress protector, but it is also a sustainable fabric, so you can do your part to save the planet by sleeping on it.
The key layer in offering protection to your mattress is the polyurethane layer. It's this layer that protects your mattress from spillages, dirt and moisture that would otherwise damage your mattress.
Nectar mattress protector – from £60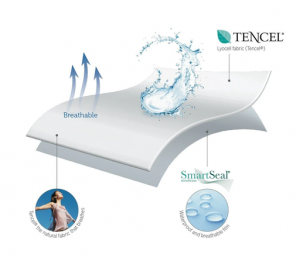 If you need a mattress protector that offers great value for money, then look no further than Nectar. Known for offering the same great value with their mattress, the Nectar mattress protector is also a great buy.
Because it's made by Nectar, the Nectar mattress protector comes with a 2-year warranty so you can have complete peace of mind when you purchase. If that's not enough to give you the confidence to pull the trigger, then why not read a few of the thousands of excellent reviews that Nectar have received for their products on Trustpilot.
The Nectar mattress protector has a top later made from Tencel jersey, which is not only super-soft but also breathable. This works by effectively creating a layer between your body the mattress, so you're comfortable when you sleep. As with all of the best mattress protectors, the Nectar mattress protector will also help to regulate your body temperature for a comfortable night's sleep.
Underneath the Tencel layer is a layer of polyurethane film. This is the waterproof layer that prevents liquids and other moisture from reaching the mattress below. The protector itself is made of polyester so you know it's going to stand the test of time.
Eve mattress protector – from £49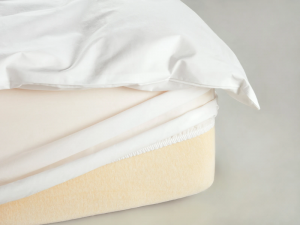 You can't talk about great-value mattresses without mentioning Eve, so naturally you can't talk about the best mattress protectors without mentioning the Eve mattress protector. If you already have an Eve mattress then it's a no-brainer. The Eve mattress protector can be used on any other mattress though – just check the sizing.
Unlike a lot of other mattress protectors, Eve's contender is made from cotton. This means that it is soft, comfortable and – above all – breathable.
The top layer is treated with Neotherm. This is the way in which the Eve mattress protector is waterproofed. The Neotherm is also responsible for temperature regulation.
Like the Simba mattress protector, the Eve protector has been designed to be non-invasive, so when it's fitted you probably won't even know it's there.
In order to get the most from your mattress protector, Eve recommend that you wash it once per month. Washing the Even mattress protector is a doddle – just pop it in the washing machine at 40 degrees.
Panda Bamboo mattress protector – from £37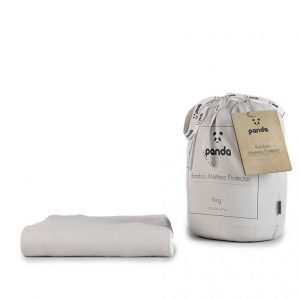 The Panda Bamboo mattress protector isn't designed specifically for any one mattress. Therefore it's a great all-rounder if you don't want to shell out more cash buying a mattress protector from the same company that made your mattress.
It's available in a wide range of standard UK sizes from Single to Superking. You can also buy a Panda Bamboo mattress protector in the most common EU sizes. They even have sizes for cots and cotbeds, so you can even protect your investment in the kid's room too.
To give you some peace of mind with your purchase, the Panda Bamboo mattress comes with a 2-year guranatee complete with free delivery to anywhere in the UK.
He Panda Bamboo mattress prector has a waterproof layer which features Nano TPU technology. You probably know lots about that, but essentially it means it keeps moisture and spillages off of the mattress beneath it, while also preventing bacteria and allergens. This makes for a comfortable, uninterrupted night's sleep. The top layer is made from – as the name suggests – bamboo. This is a naturally antibacterial product, so the Panda Bamboo mattress protector is a good shout if you suffer from allergies.