In recent years, Simba has branched out into duvets and pillows, offering a range of options to suit different preferences and budgets.
In this article, I am going to write a full hands-on review of the Simba Hybrid Duvet, and compare the Simba Hybrid Duvet and the Simba Hybrid 3-in-1 Duvet, highlighting their differences and ultimately helping you decide which one is right for you.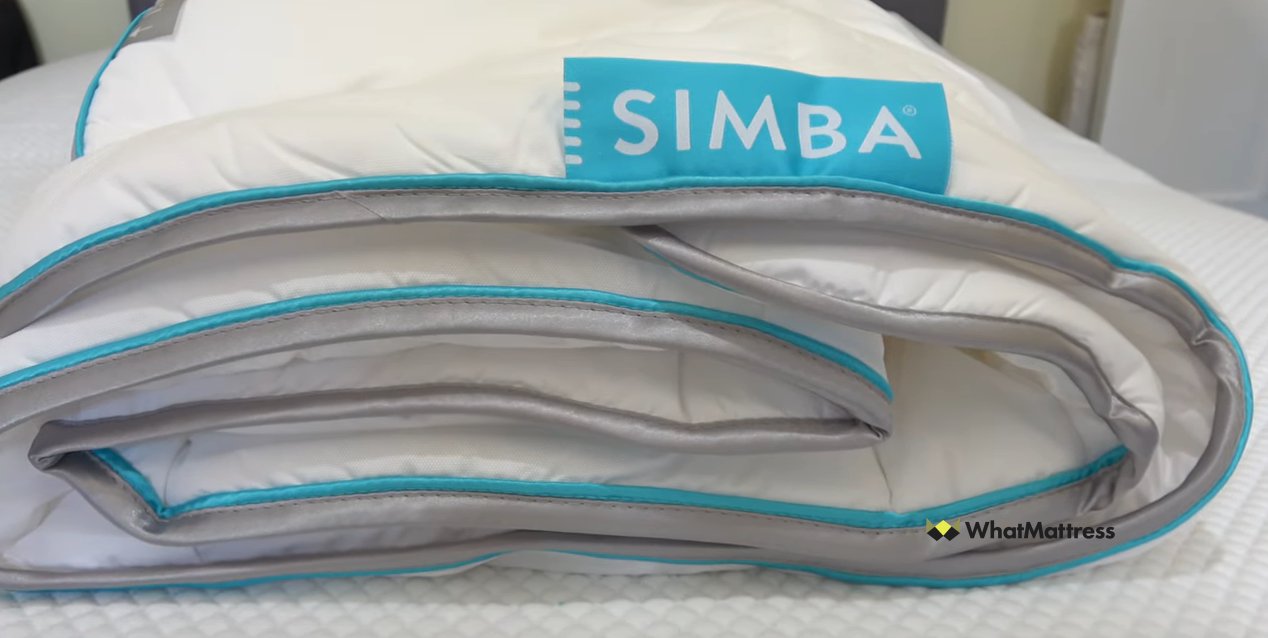 Materials and Construction
Firstly, let's start with the basics.
The Simba Hybrid Duvet is made from a combination of microfibre and what Simba call "Simba Renew", similar to the Simba Hybrid Pillow, which they claims has the ability to dissipate heat. It looks like the "Simba Renew" material has replaced goose down – previously, the Simba Hybrid Duvet was made partly of down & feathers, but this has since been re-worded to "down-like" by Simba's marketing department.
What is "Simba Renew", you ask? Well, it comprises mainly of fibre interwoven with polyester, which is apparently made from recycled bottles and plastics.
At first, I'll admit I found this quite alarming – as much as I support recycling, I don't particularly want to sleep surrounded by recycled Evian bottles. How soft can recycled plastic be? Well, the answer is that it feels just like regular polyester filling, to the touch. I ran my hand over the Simba Renew insert to test it and it didn't feel sharp at all.
In a way it's a shame that they removed the goose down feathers, but the flipside of this is that it's now a fully vegan (animal friendly) and it's also fully sustainable (including the cover). The entire Simba range including the mattresses are also now fully carbon neutral.

This use of plastics of course also makes it much lighter. The duvet has a 10.5 tog rating, making it reasonably suitable for use all year round (more on this below). It isn't a particuarly heavy duvet, so if you like yours to feel weighty on your body when you're in bed, this probably isn't the duvet for you.
What annoys me is that the prices didn't go down when Simba switched from down to recycled plastic. But do they ever?!
What about the Simba Hybrid 3-In-1 Duvet?
The Simba Hybrid 3-in-1 Duvet, on the other hand, is made up of three separate layers that can be used individually or combined for maximum warmth. The layers include a lightweight 4.5 tog duvet, a medium-weight 9 tog duvet, and a warm 13.5 tog duvet.
Each layer is made from a combinaton of microfibre & natural down. The duvet cover is also made from soft, breathable cotton (the covers for both models are identical).
Positives and Negatives
The Simba Hybrid Duvet offers an acceptable balance between warmth and weight, meaning that some folk will be happy to use it year round, while others may find it too light. The best way to know is to check what your current duvet's tog rating is – I was surprised to learn that mine was also a 10.5, even though I thought it was a 5!
The interior side of the duvet i.e. that doens't touch your body,  feels a bit plasticky and 'wet' almost, so I'm glad it is inside the duvet cover.
The downside of the cheaper Simba Hybrid Duvet is that it may not be warm enough for those who live in colder homes or those who prefer a heavier duvet.
Comparing it to the Simba Hybrid 3-in-1 Duvet
Conversely, the Simba Hybrid 3-in-1 Duvet offers maximum flexibility, allowing you to adjust the warmth of your duvet to suit your needs. The lightweight 4.5 tog layer is perfect for summer use, while the medium-weight 9 tog layer is ideal for spring and autumn. The warm 13.5 tog layer is perfect for winter use, offering maximum warmth and comfort.
The downside of the 3-in-1 Duvet is that it is, of course, more expensive than the Simba Hybrid Duvet. Expect to pay around £100 more, after discounts.
Another thing to be aware of, if you're going to use multiple different layers at the same time, then layers in the 3-In-1 Duvet may move around inside the cover, which can be a bit annoying too.
Comparison Table
To help you compare the Simba Hybrid Duvet and the Simba Hybrid 3-in-1 Duvet, I've created the following 'versus' table:
| | Simba Hybrid Duvet | Simba Hybrid 3-In-1 Duvet |
| --- | --- | --- |
| Materials | Microfibre, cotton | Microfibre, cotton |
| Tog rating | 10.5 tog only | 4.5 tog, 9 tog, 13.5 tog |
| Construction | Single layer | Three separate layers |
| Cover material | Cotton (STRATOS) | Cotton (STRATOS) |
| Machine washable | Yes | Yes |
| Price (UK) | £169 – £279 | £299 – £449 |
| Best for | Year-round use | Customisable warmth |
As you can see, the prices above are quite different (and are before any discounts).
As with all Simba products, it really depends if you can afford to go for the more premium option; if your budget is more constrained then the cheaper Hybrid Duvet is perfectly fine. The same logic applies to the Simba mattress range.
More on this later.
Price and Recommendations
The Simba Hybrid Duvet is available at a price range of £169 to £279, depending on the size.
You can get either of these duvets in the following sizes:
Single (135 x 200 cm)
Double (200 x 200 cm)
King (225 x 220 cm)
Super king (260 x 220 cm)
These sizes should fit most standard UK bed sizes. Obviously, it's important to check first to make sure you buy the right size duvet for your bed to ensure optimal comfort and warmth. Don't assume that you're sleeping on a kingsize when you may actually be on a double – I've made this mistake before much to my embarrassment!
Back to the pricing, the Simba Hybrid 3-in-1 Duvet is priced between £299 and £449, depending on the size. And that is hugely expensive for a duvet, but its customisable warmth feature makes it an excellent choice for those who live in areas with extreme temperature changes.
Note: It's worth pointing out that Simba often run discounts too, and most people won't be paying this much. If you're looking for a discount on your Simba Hyrbid Duvet then check for Simba discount codes here.
Verdict: Is it worth buying?
In conclusion, both the Simba Hybrid Duvet and the Simba Hybrid 3-in-1 Duvet have their own unique features and benefits – as well as drawbacks.
The Hybrid Duvet is perfect for those who want a comfortable and versatile duvet that can be used year-round (as long as you don't want a weighty duvet).
The Hybrid 3-in-1 Duvet is great for those who want customisable warmth and are willing to invest in a more expensive option and also want the extra weight.
Ultimately, the best duvet for you will depend on your individual preferences and budget. Consider factors such as how warm your bedrrom is, and your personal preferences when it comes to materials and construction.
If you're looking for a super-heavy blanket instead then consider a weighted blanket by Simba or others.
Is the Simba Hybrid Duvet interchangeable?
No. It has to go a certain way up, which is indicated by the "TOP" label, so it's not too difficult to figure out 🙂
FWIW, I tried using the opposing (wrong) side, just to test it, but it feels a bit weird on your skin, and I wouldn't recommend it.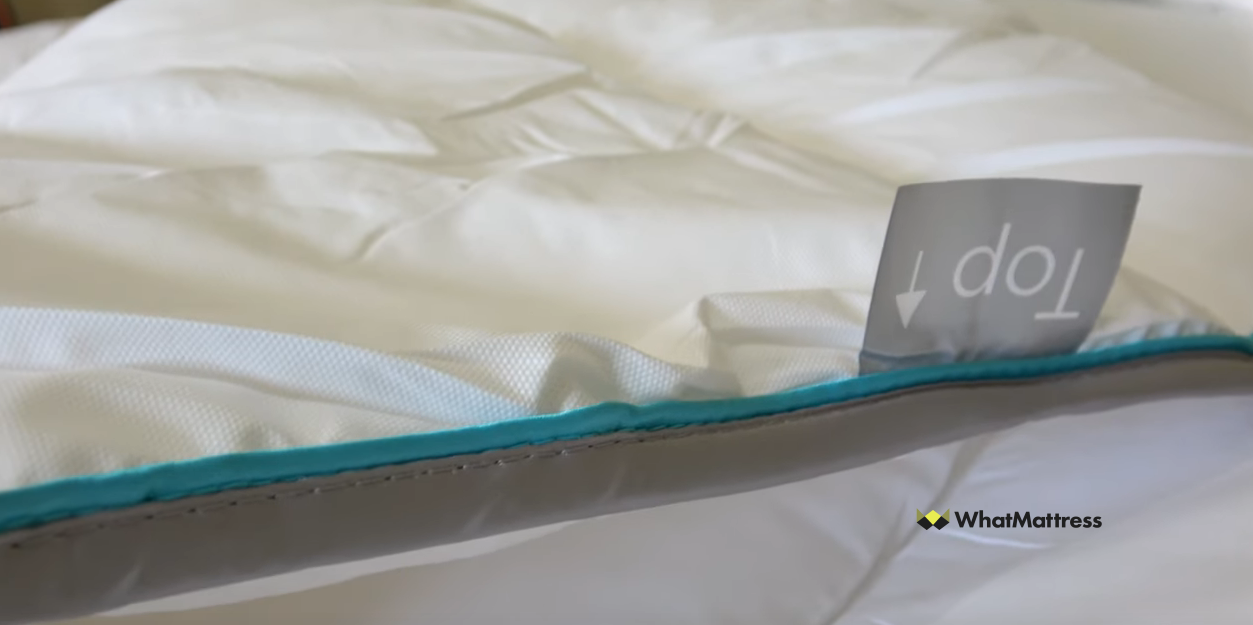 Does the Simba Hybrid Duvet have a tog rating?
I noticed that some review websites falsely claim that there is not 'tog' rating for the Simba Hybrid Duvet. But, the Simba Hybrid Duvet DOES have a tog rating, specifically of 10.5, which means it provides medium warmth and is suitable for use all year round in most climates.
The tog rating is a measure of a duvet's ability to trap warm air, and it ranges from 1 to 15, with a higher rating indicating a warmer duvet. The Simba Hybrid Duvet strikes a good balance between warmth and weight, thanks to its combination of microfibre and natural down filling.