If you have kids, then you understand that storage is at a premium. And their bedroom is not just a place where they sleep – a child's bedroom is a haven of safety. It is also place where they store their most beloved possessions – their toys. It's not until your children get to toddler age that you realise just how many toys they can accumulate.
All of these toys need somewhere to go. Having the right toy storage can be the difference between your children having an organised bedroom where they know where everything is and having a chaotic room that always looks untidy and cluttered.
A great solution when it comes to children's bedroom storage is the bed itself. There are many beds on the market nowadays that combine a comfortable place to sleep with somewhere to store children's toys and games. Here are some of our favourites.
Dreams Lydia Bunk Bed Review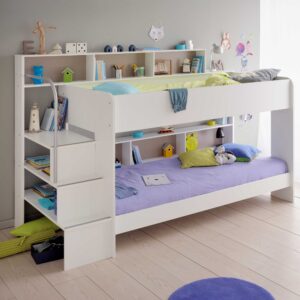 When you have more than one child sharing a bedroom, there's a huge potential for toys to take over. Include the fact that each child needs his or her own bed and you will soon find that you have run out of space in their bedroom. That's where this handy bed from Dreams comes in.
Lydia Bed: Design
The 'Lydia' bunk bed is compact, but allows plenty of storage space. As well as ample room to sleep, the Lydia bed has multiple shelves for that all-important storage. Even the steps to the top bunks double up as additional shelves.
There is also an option to buy trundle bed so that the bed can sleep three children. The trundle bed is sold separately and can be stowed handily underneath the bottom bunk when not in use. Should you not need the third trundle bed, then with the right sized boxes you can store even more items underneath the bottom bunk.
Unlike the majority of bunk beds, the Lydia bed has a staircase as opposed to a vertical ladder. This not only makes it easier for young children to climb, but it also vastly improves the storage capacity.
The Lydia storage bed is made from strong, laminated particle boards and is available in two colours: Light brown or white. It also features reversible shelf backs in pink or cappuccino colour for maximum versatility to suit any room décor, and making it suitable for both girls and boys.
Mattress Size and Dimensions
The top bunk, bottom bunk and trundle bed each accommodate a single European-sized mattress (90cm x 200cm). These mattresses are sold separately. For safety reasons, the top bunk requires a mattress with a maximum depth of 150mm. For the trundle bed, a maximum mattress height of 100mm is recommended. As with all bunk beds, the recommended age for sleeping in the top bunk is 6 years and over.
Dreams do not have a weight limit for their Lydia bunk bed. Although they are designed for children they will support most adults. This means that the Lydia bed could well be suitable for teenagers as well as younger children. The trundle bed however has a weight limit of 100kg.
A – Head-end
B – Length
C – Width
(Please allow a tolerance of +/- 2cm)
Right now, the Lydia bed is available for £699 on the Dreams website, with the trundle bed being sold for an additional £119. Previously this has been priced at £899, so at the current price the Lydia kid's storage bed offers even better value for money.
HappyBeds Kimbo Cabin Single Bed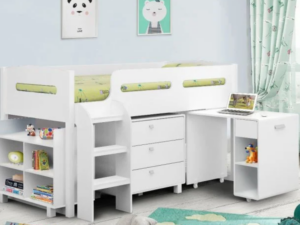 Even if your child has a room of his or her own, the extra storage space is always handy. This is where mid-sleepers (known also cabin beds) come in. A mid-sleeper is similar to a bunk bed, but it only sleeps one and has space for storage underneath as opposed to another bed. Some mid-sleepers simply afford you some extra space while others feature extras such as clothes storage, shelving or a desk.
HappyBeds Kimbo: Design
The great thing about the Kimbo bed is that fact that it maximises the space available to you. It features built in shelves, a chest of drawers and a pull-out desk. So you don't have to worry about how or where to store items such as toys, clothes, arts or crafts.
The chest of drawers has three drawers that glide effortlessly. The runners are made from metal, which is offers a much better experience and longevity than cheaper chests of drawers that usually have plastic runners. The bed also has a pull-out desk on wheels that can easily be moved out and stowed away as necessary. At the end is a fitted bookcase and shelving unit. All three of these units are free-standing and can be manoeuvred as necessary.
The HappyBeds Kimbo has an extra-wide ladder with flat steps and raised guard rails to make it easier and safe to climb. At the same time the ladder is compact, leaving more valuable space underneath and around the bed for storage. Not only that, but there is also a matching range of bedroom furniture available that will blend in seamlessly with the Kimbo mid-sleeper bed.
The Kimbo itself is made from solid and sturdy materials to offer both safety and comfort. It features hardwood slats combined with metal supports and double bolted fixtures throughout for extra strength. It is also enriched with a smooth laminated finish. There are six choices of colour combination: anthracite, white, blue and white, pink and white, grey and oak.
Kimbo Mattress Size and Dimensions
The Kimbo bed will take a standard 3ft single mattress, which is 90 wide and 190cm long. Please note this is a slightly different size to Euro single, which is 90cm wide by 200cm long. The recommended mattress height is 180mm. The bed itself has the following dimensions: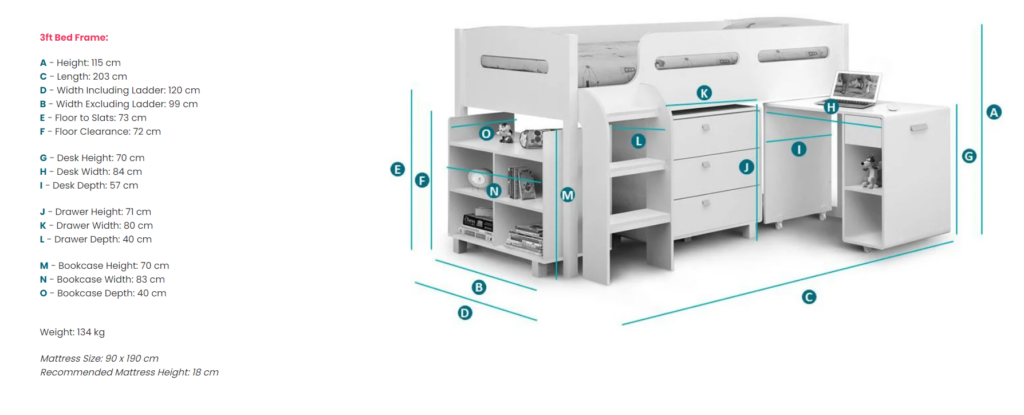 The RRP of the HappyBeds Kimbo is £774.99, but it has been reduced a couple of times. Right now you can get it for just £349.99 on the HappyBeds website. Even though that doesn't include the mattress, it's an absolute bargain or what you're getting. The Kimbo would suit any child from the age of 6 right up until early teenagers.
Argos Home Kaycie Single Bed – Review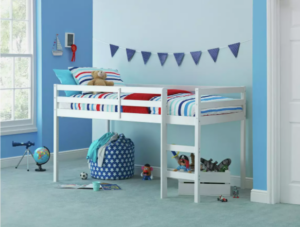 If you're on a budget then don't worry as you can still find a kid's bed that offers plenty of storage. The Kaycie bed frame is made from natural pine. It's solid and features a high slatted headboard and central leg for enhanced strength and support. And it offers excellent value for money.
Available in white or natural pine colour, the Kaycie is a mid-sleeper bed. This means that it is like a standard bunk bed, only not quite as high. The main difference however is that it doesn't have a bottom bunk. Instead, it has a large open space that is idea for storage. The space underneath the sleeping area is very versatile. So you can fill it with a chest of drawers, shelves or a combination of both to offer that much needed space for book, games and toys. In fact, you can get almost anything underneath the bed, as the clearance between the floor and the underside of the floor is just under 750mm.
Argos Kaycie Mid-sleeper Dimensions
One of the best things about the Kaycie mid-sleeper is the fact that the ladder can be positioned on either side of the bed, depending on where it best suits you. Because of the height of this bed, it is best suited for children over the age of 6 years old. The maximum mattress depth is 160mm. The bed itself is sturdy and can withstand a weight of up to 120kg safely, so there will always be enough room for a cuddle or to read your child's favourite story book with them.
Argos Kaycie Mid-sleeper Dimensions
| | |
| --- | --- |
| Length | 196cm |
| Width | 102cm |
| Height | 111cm |
As this is a budget option, the Kaycie mid-sleeper bed is priced at £130. However, if you shop around or wait for one of the many events that Argos hold, you may be able to get a discount. Typically, this can range anywhere from 10% to 20%. And don't forget that because it's Argos, it means that you will accumulate Nectar points when you buy.
If you need a little more room underneath the bed, then the Kaycie range also has a similar high-sleeper, priced at £170. With almost 1,400mm of clearance underneath this means that there is even more choice with what to fill the space with. And just like the mid-sleeper version, the bed can take an impressive 120kg.
Was this article helpful?
How we reviewed this article:
Edit History:
Our experts continually monitor the mattress & sleep tech space, and we update our reviews & articles when new information becomes available.
27th February 2023


Current Article - By Carrie Taylor

29th April 2023


Checked & Reviewed - By Jean Marshall

3rd February 2021


Copy Edited - By Anthony Maxwell

25th September 2023


Reviewed - By Anthony Maxwell
WhatMattress has strict sourcing guidelines and we try to rely on peer-reviewed studies, academic research institutions, and medical associations where possible.