If you're looking for a high-end mattress that offers long-term comfort, then the Tempur Original Supreme could be the mattress for you. When it comes to getting a good night's sleep a quality comfort is key. Those who understand this are unwilling to compromise when it comes to getting a suitable mattress.
This is where premium mattresses from the most popular manufacturers come in.  Tempur is well known within the mattress industry. Back in the 1970s they developed a foam for the use of NASA astronauts. And it turns out that the pressure-relieving properties of this material make it ideal for use in a mattress. But how far does this material go in the Tempur Original Supreme? And does it offer the optimum amount of comfort and support for a good night's rest? This is where we come in. We got hold of a Tempur Original Supreme mattress and put it to the test. Read on to find out more.
Tempur Original Supreme: Quick facts
Don't have time to read the whole review? Don't worry, we've outlined the main pros and cons right here. That way you can see at a glance whether the Tempur Original Supreme is the mattress for you.
Pros:
Provides excellent pressure relief and is suitable for those with back pain or joint issues.
Offers almost perfect motion isolation, making it an excellent choice for couples or light sleepers.
Available in three different depth options, allowing customers to choose the level of firmness they prefer.
Comes with a 100-night trial period and a 10-year guarantee, providing customers with peace of mind.
Removable cover is washable up to 60°C, making it easy to maintain and keep clean.
Cons:
Offers little to no edge support, making it challenging to sit or sleep on the sides of the bed.
Can be quite hot, and some customers may experience heat retention issues.
Relatively expensive compared to other memory foam mattresses on the market.
May not be suitable for those who prefer a firmer feel or for heavier people.
Off-gassing can occur after delivery, but it usually goes away after a few days.
The main reason for Tempur's success is a unique material that they developed for NASA back in the '70s. One day it was decided that a mattress should be made using this material due to its pressure-relieving properties. The rest is history, and in 1991 the first ever Tempur mattress was produced.
Since then, for over 30 years Tempur has become increasingly popular. They have grown as a brand, offering many different mattresses as well as other products. All of these are manufactured in Denmark, and the majority of their products come very highly rated indeed.
Construction
All mattresses made by Tempur feature high-quality materials, providing a feeling of luxury to whoever is sleeping on it. Despite this Tempur mattresses are best known for their pressure-relieving properties. This is largely thanks to their very own high-density foam that is both elastic as well as viscous. The Tempur Original mattress is no exception to this rule. The Tempur Original Supreme is just one member of the Tempur Original family, along with The Tempur Original Elite and the Tempur Original Luxe. All of these mattresses are identical in construction, with the exception of their varying depths. The depths are as follows:
Tempur Original Supreme – 21cm
Tempur Original Elite – 25cm
Tempur Original Luxe – 30cm
As far as we're aware, the Tempur Original is the only mattress around that is available in three different depths. This makes it quite unique in our books. Could Tempur be on to something here? Read on to find out.
The top uppermost layer on the Tempur Original Supreme is made from what's know as the Tempur material, which offers the three pillars of a good mattress – pressure relief, support and comfort.
The second layer of the Tempur Original Supreme mattress contains the support material, and the bottom layer – also known as the base layer – features Durabase technology. It's this base that defines the varying depth of the mattresses within the Tempur Original range. I.e. the Luxe variant has a deeper Durabase layer than the Supreme and Elite variants.
All of the above three layers are wrapped in the cover, which is OEKO-TEX certified for the British market. This means that you can rest assured that the cover is free of chemicals and therefore safe to sleep on.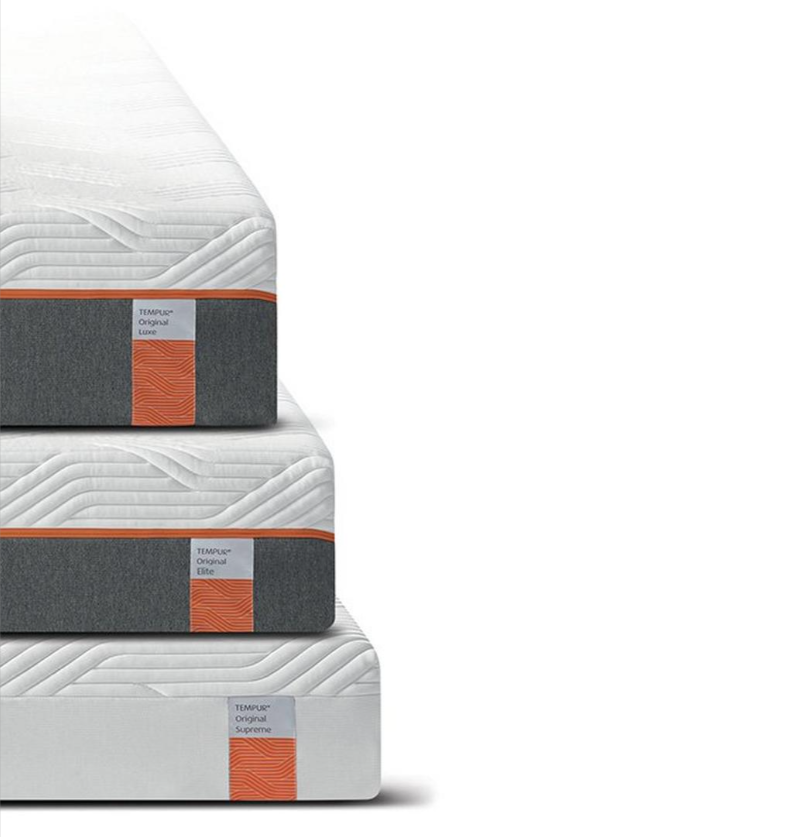 Firmness
There is a lot of science behind the firmness of the Tempur Original Supreme. The idea is for the mattress to be just about firm enough to smoothly adjust to the weight of your body, while still offering ample support. Tempur themselves think that the Original Supreme mattress is a firm mattress, but we would disagree. After testing dozens of other mattresses, including the main rivals of the Tempur Original Supreme, we'd say that this mattress is actually on the softer side of the firmness scale.
The fact that the Tempur Original Supreme is made entirely of foam and therefore does not contain any springs means that it does allow a fair amount of sinkage. If you're a heavy person, i.e. you weigh more than 15 stone, you would be better suited to a firmer choice of mattress by Tempur.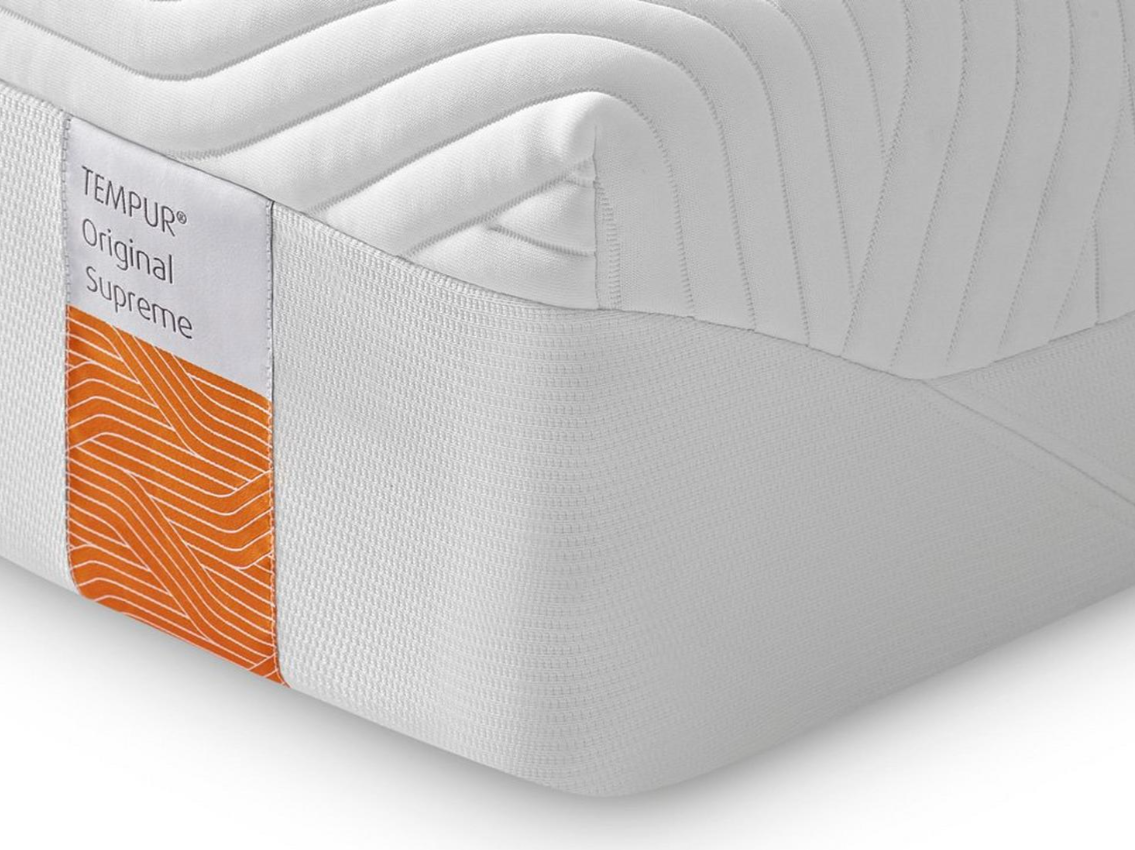 Support and comfort
When it comes to finding the right mattress, we can all agree on one thing. We all want a mattress that offers stability and comfort by adjusting to the shape of our body while simultaneously offering adequate support.  In terms of comfort and support, we were very impressed with the Tempur Original Supreme as it was able to do just that perfectly.
We've tested a fair few memory foam mattresses, and the Tempur Original Supreme mattress wasn't quite like all of the others. It feels softer than most other memory foam mattresses, but at the same time offers more stability. We can only assume that their own patented foam used by NASA is the reason behind this. Despite being soft and supportive as we mentioned earlier some people may find it a bit on the soft side – especially if they are relatively heavy. It all depends on whether you take comfort in that sinking feeling. Some people like the feeling, others not so much.
When sleeping on the Tempur Original Supreme you can feel that your body is perfectly aligned with the surface of the mattress. This would significantly reduce any back pain that you'd typically feel on a memory foam or softer mattress. If you're a back or side sleep though you may find this mattress a bit too soft, so it's well-worth looking at Tempur's firmer offerings.
Temperature regulation
A common complaint about memory foam mattresses is their ability to regulate temperature – particularly for heavier people. We'd love to say that the Tempur Original Supreme is an exception to this rule, however we found that it was pretty much the same story. There is something about foam that simple means it's not as effective as springs for maintaining or regulating body temperature. So if you're a heavier person who tends to get hot when you sleep then you may find that the Tempur Original Supreme will give you the same issues as any other memory foam mattress. But don't fret because Tempur make other mattresses that feature their own CoolTouch technology to address this very issue.  It's not easy to get hold of though, but trust us when we say that we will be reviewing it as soon as we can.
Motion transfer and edge support
If you're one of those people who wake up unrefreshed after a restless nights sleep because of a partner's tossing and turning during the night, then the Tempur Original Supreme could be the mattress for you. In terms of motion isolation, this mattress is probably one of the best we have tested. So if you do have a partner who can't keep still you'll hardly feel it with the Supreme. This is because there is a generously dense layer of memory foam within the composition of the mattress – so it's ideal for light sleepers or couples.
When it comes to edge support, memory foam mattresses tend to be at a major disadvantage compared to spring mattresses because they simple aren't strong enough to withstand weight on the edges. The Tempur Original Supreme suffers just like any other memory foam mattress here unortuntately. This is why the Supreme comes with a 23 stone weight limit. If your weight exceeds this amount then you'll have a hard time not rolling off the edge of this mattress. If you're a heavier person and are looking for a similar mattress but with more edge support then the closest mattress is the Simba Hybrid Pro, which contains both springs and memory foam.

Durability
A mattress can be an expensive purchase and the Tempur Original Supreme is no exception. When you're buying something that costs as much as this you want the peace of mind that it will last for a long time. Even with a cheaper mattress people are mindful of the durability so this is even more the case when purchasing a luxury Tempur mattress.
A memory foam mattress will typically last somewhere between 5 and 15 years depending on a number of factors. Tempur claim that the Original Supreme has a lifespan of ten years, which is right in the middle of this range and very respectable.
Either way in order to get the most out of your Tempur Original Supreme it pays to know how to maintain and look after it. Like most luxury mattresses, the cover on the Tempur Original Supreme is removable and can be washed in the washing machine up to 60°C, which is a solid temperature for removing most types of stains and bacteria.
Despite being machine washable it is recommended not to do this regularly as it can shrink the cover. Instead spot-cleaning is more effective when it comes to getting rid of marks. The Tempur Original Supreme can be spot cleaned like the cover, but it cannot be flipped as it's a one-sided mattress.
Delivery, trial period and warranty
Like most reputable mattress retailers Tempur offers a 100-night trial period, during which you must use the mattress for at least 60 nights. If you then decide that the Supreme is not for you, you can arrange to return it by contacting Tempur. This trial period only applies if you purchase directly from Tempur, so bear that in mind if shopping at nay other bed store like Bensons for Beds, Dreams or any other online stores.
Tempur are so confident that their Original Supreme mattress will last for the ten years they claim, that they offer a 10-year guarantee with it. This warranty covers all physical changes and flaws that may be found during the first ten years of its life.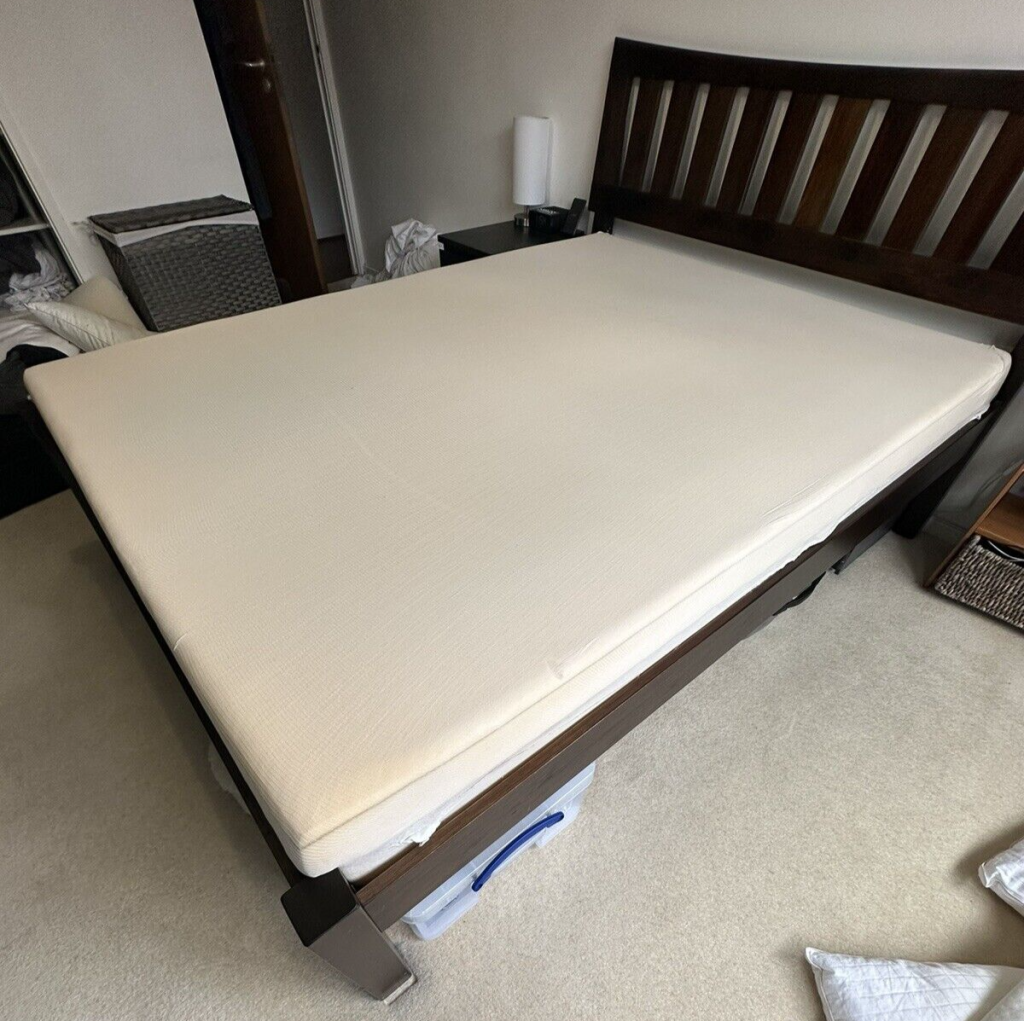 Like most mattresses, the Tempur Original Supreme will be delivered to your door free of charge. Typically it takes 14 – 28 working days between placing your order on the Tempur website and taking delivery of your mattress.
Unlike the majority of memory foam mattresses which are delivered rolled up in a box, the Tempur mattress is delivered flat. This means that there is no resting period and it can be used straightaway. As an extra bonus, the delivery people will set up your bed for you, leaving you one less job to worry about. You can also select the option at checkout for Tempur to remove your existing mattress.
Many people report a funny smell when they buy a memory foam mattress and the Tempur Original Supreme also has been known to do this. This is known as off-gassing. It's a common issue, is perfectly safe and only lasts for a day or two.
Size and price
The Tempur Original Supreme comes in a variety of sizes for most common UK bed sizes. See below for the available sizes and associated costs:
| Size | Price |
| --- | --- |
| Single | £1,499 |
| Double | £1,999 |
| King | £2,419 |
| Super King | £2,729 |
All in all the Tempur Original Supreme is a luxurious mattress that will afford you a great night's sleep if you are someone who likes the soft feeling of a mattress made entirely from foam. It's great for reducing motion transfer and contours to the body well. The main disadvantages only become apart for those who are heavier than average. The lack of side support and the fact that the Supreme is so soft will mean that heavier people will sink into it and may even have trouble with falling off of it if they lie too close to the edge. For anyone on the heavier side who likes the sound of this mattress, we think that the Simba Hybrid Pro would suit your better. This is a hybrid mattress that contains springs as well as foam and offers that all-important extra support.
Was this article helpful?
How we reviewed this article:
Edit History:
Our experts continually monitor the mattress & sleep tech space, and we update our reviews & articles when new information becomes available.
15th May 2023


Current Article - By Anthony Maxwell

23rd June 2023


Checked & Reviewed - By Morag Park, Ph.D.

15th May 2023


Copy Edited - By Anthony Maxwell

13th September 2023


Reviewed - By Anthony Maxwell
WhatMattress has strict sourcing guidelines and we try to rely on peer-reviewed studies, academic research institutions, and medical associations where possible.