The Panda Hybrid Bamboo Mattress was built to last and is up to par with the best mattresses available on the market today. If you're looking for a mattress that will give you a good night's sleep while being ethical, then you can't go far wrong with the Panda Hybrid. Made with bamboo, its creators say it's great for those who get hot during the night as well as those who wake up frequently.
Bamboo is a great option for people who have allergies or sensitive. Bamboo is hypoallergenic and has antibacterial, bacteriostatic, antifungal, and hypoallergenic characteristics. It keeps dust mites and other allergen-causing organisms from taking up residence in your bed, so you're less likely to wake up with a stuffy nose or have a sneezing fit in the middle of the night. It is also kinder to the skin, so is an ideal material for those who suffer from sensitive skin.
As bamboo is a natural material, the Panda Hybrid is also a great choice for those who follow a vegan diet, as well as those who just want to do a bit more for the environment.
Panda Hybrid Bamboo mattress: Quick Facts
The Panda Hybrid is a bit different to most of the other mattresses out there, so it's only fair that we give it an in-depth review to highlight all of these differences. If you know all about it already, or you don't have time to read all of the information on this page, then we've put together a list of the main pros and cons that we and other owners have found.
Pros:
Highly breathable
Excellent motion isolation
Eco-friendly and hypoallergenic
Pressure relief and support
Sustainable and environmentally friendly
10-year warranty and 100-night trial
Cons:
Some people say it's a bit too firm
The cover can be troublesome
All in all it's clear to see that there are many more pros than cons when it comes to the Panda Hybrid Bamboo mattress. If money is no object, then you can't go far wrong with this mattress. This is providing you don't require a softer mattress, and have the patience to deal with the cover. We cover these and the pros later in the review.
Composition
Featuring a total of six layers, the Panda Hybrid is a very innovative mattress. Countless hours of research have gone into the mattress so that it can deliver on its promise of giving you the best possible night's sleep. The Panda Hybrid Bamboo mattress comprises of the following layers:
The first layer is the cover. Adding a layer of silky softness to top the mattress, the bamboo cover can be removed and washed. Bamboo is a great material for a mattress cover owing to the fact that it is temperature regulating and hypoallergenic as well as anti-bacterial.
Underneath the bamboo cover lies a layer of BioCell foam. This is foam that has been uniquely engineered with open cell technology, and has also been infused with bamboo. This makes for a layer that is resistant to odours, highly breathable and able to regulate temperature for you while you sleep.
Under the BioCell foam is a layer of OrthoAlign foam. This foam is Panda's orthapedic grade foam that has been engineered to optimise the alignment of your spine as you sleep, offering you the highest possible level of comfort and support.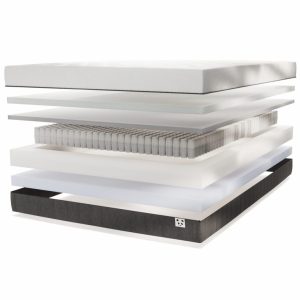 Supporting layers
The fourth layer consists of springs, and a lot of them. The Panda Hybrid Bamboo mattress has over 1,500 individually enclosed premium springs. These springs are able to isolate movement which reduces motion transfer while still keeping you adequately supported. This means that even the most restless sleepers will sleep soundly and with minimal distrubrance.
Towards the bottom of the mattress is the comfort base made from high-density memory foam. The idea of this foam layer is to absorb any excess movement from above, and perfectly distribute your body weight. The idea of this is to protect the sleeper from even the largest of disturbances during the night.
All of the above is kept neatly where you want it thanks to the inclusion of an anti-slip base which secures your mattress and prevents it from sliding around.
How the layers work together
All of the above layers work seamlessly together to offer a wide range of benefits to whoever sleeps on the Panda Hybrid Bamboo mattress. Run a bit hot when you sleep? No problem, the bamboo infused within the mattress has cooling properties. Bad back? The layer of springs coupled with the BioCell foam offers the correct amount of support right where you need it. Suffer from allergies? The hypoallergenic properties of the bamboo infused within the mattress mean that you can rest easy without suffering. Restless partner? Thanks to the high density foam layer right beneath the springs motion transfer is minimal meaning that you won't be kept awake by someone else's tossing and turning.
Technology
The Panda Hybrid Bamboo Mattress features 7-Zone Support and Motion Control thanks to its use of multi-zonal springs that distribute support evenly over the body in strategic regions including the head, shoulders, hips, back, and legs. As a result, your spine will be properly aligned, and your movements will be isolated. You can sleep soundly through your partner's tossing and turning since each of the 1,500 premium pocket springs in the mattress works separately because they are individually enclosed. A high-density foam base also helps to reduce motion transfer and improve the quality of your sleep.
To address the common problems of standard memory foam, such as excessive heat retention and disagreeable odours, Panda's engineers have developed their very own bamboo-infused memory foam. The infusion of bamboo provides a cooler night's sleep and makes use of bamboo's inherent deodorising abilities to keep your bedroom free of odours – another common complaint of those who tend to sleep on the hotter side.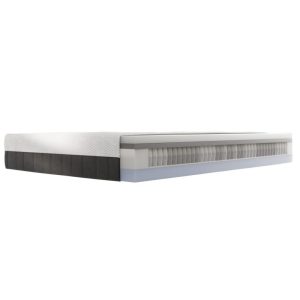 Eco-friendly materials
The entire mattress is covered in a removable bamboo cover. While cotton is a great material for the cover of a mattress, bamboo is far superior. In comparison to cotton, bamboo has higher absorbency, is softer, more elastic and is much cheaper and easier to manufacture. As a bonus, it helps keep everything smelling fresh due to its natural deodorising properties. The bamboo cover of the Panda Hybrid can be quickly removed with its zip and washed in the washing machine, making it easy to keep it clean.
The Panda Hybrid Bamboo Mattress uses eco-friendly materials that are sourced in a responsible and sustainable manner. Every mattress purchased from Panda helps fund tree-saving and environmental protection initiatives in the Amazon. And that's something that we really like.
As is common with mattresses within this price range, the Panda Hybrid Bamboo comes with a 100-night trial period and a 10-year warranty on its mattresses to ensure their quality and durability, just like they do with their pillows and bamboo mattress toppers. In addition, you can get a full refund if you decide to return the mattress anytime within the first 100 nights if it doesn't live up to your standards or satisfaction. No questions, no quibbles.
And just like the mattress the other bedding options available from Panda, from bamboo and memory foam pillows to ultralight duvets, are of the highest quality. We were able to try out both the pillow and duvet alongside the Hybrid Bamboo mattress.
Panda Hybrid Bamboo price
Panda have made sure they haven't missed anyone out with their Hybrid Bamboo mattress, which is why it's available in an impressive amount of sizes from UK single all the way to Emperor and featuring everything in between! Below you'll see the price for each size of mattress according to the Panda website, but remember there are often sales or Panda vouchewr codes that you can use to save yourself some money off of the RRP.
| Bed Size | Measurement | Price (GBP) |
| --- | --- | --- |
| Single | 190cm x 90cm x 27cm | £950 |
| Small Double | 190cm x 120cm x 27cm | £1,250 |
| Double | 190cm x 135cm x 27cm | £1,290 |
| King | 200 cm x 150cm x 27cm | £1,390 |
| Super King | 200cm x 180cm x 27cm | £1,550 |
| Emperor | 200cm x 200cm x 27cm | £1,750 |
| EU Single | 200cm x 90cm x 27cm | £990 |
| EU Double | 200cm x 140cm x 27cm | £1,350 |
| EU King | 200cm x 160cm x 27cm | £1,490 |
Is it worth the money?
The mattress is of high quality, is comfortable, and provides excellent support, and it is classified as medium-firm to firm, depending on your weight. But everyone has different tastes, so your mileage may vary. Still, we think it achieves a great middle ground between support and comfort, making it a good choice for most people and virtually all sleeping positions.
Panda's open-cell memory foam features bamboo, which greatly improves ventilation. The idea of using bamboo is a good one because it prevents the usage of "industry-standard charcoal-infused memory foam" while obtaining similar outcomes. Bamboo also guarantees a cooler and more comfortable sleep experience than charcoal ever could.
However, the exceptional motion isolation and pressure relief qualities given by the Bamboo Hybrid construction were what really sold us on this mattress. When you consider that this mattress is on the cheaper end of the scale when it luxury mattresses, it does represent outstanding value for money.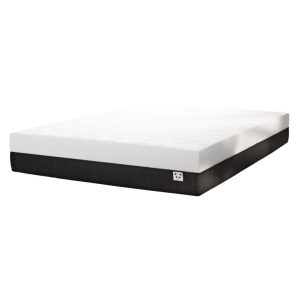 Environmental advantages
When it comes to the protecting the environment, you'd be hard-pressed to find a mattress that's kinder to our world.  All of the bamboo used to make the Panda Hybrid Bamboo mattress is from pesticide-free woods. And these woods have been vetted and certified as sustainable. No dangerous chemicals were used in its creation, and it has been approved by organisations like REACH, OEKO-Tex and CertiPUR. The foams cannot be broken down into their component plastic polymers, but they can be recycled without any loss of quality.
The mattress's package is totally recyclable and constructed with at least 80% post-consumer waste. And if that's not enough, each purchase aids in the protection of the Amazon rainforest and reduces the company's carbon footprint thanks to their collaboration with Tr1be. So if you care about the environment then the Panda Hybrid is the mattress for you
Conclusion
After sleeping on the Panda Hybrid Bamboo mattress for an extended period of time, we can say with complete certainty that it exceeded our highest expectations. We were pleasantly surprised by how much more than simply the usage of bamboo fibres contributed to its near-perfection.
Panda has produced one of the best mattresses we've ever tested because to its attention to detail and use of cutting-edge cooling and support technologies. We can state without reservation that it is money well spent should you decide that this mattress is for you. All of this is – and it's kinder to the environment than any other mattress that we have ever slept on.
The Panda Hybrid Bamboo mattress is by no means a cheap mattress. However when you consider the quality of the materials used and the craftmanship, it offers brilliant value for money too. We would not hesitate to recommend the Panda Hybrid Bamboo mattress to anyone who can afford it.
Was this article helpful?
How we reviewed this article:
Edit History:
Our experts continually monitor the mattress & sleep tech space, and we update our reviews & articles when new information becomes available.
24th May 2023


Current Article - By Anthony Maxwell

22nd June 2023


Checked & Reviewed - By Morag Park, Ph.D.

18th May 2023


Copy Edited - By Anthony Maxwell

22nd September 2023


Reviewed - By Anthony Maxwell
WhatMattress has strict sourcing guidelines and we try to rely on peer-reviewed studies, academic research institutions, and medical associations where possible.