Hyde & Sleep (or H&S), by Dreams, are one of the original mattress-in-a-box companies in the UK. They actually sell a few different mattress models in the UK, which can get a bit confusing. I have explained each of them here separately below: click through to read more on each 'variety' and I will explain the pros and cons of each.
Hyde & Sleep in a nutshell:
The first set of mattresses by Hyde & Sleep are hybrid mattresses. If you don't know what these are, then you can read more about the best hybrid mattresses here. Essentially, this means they are memory foam on one layer, but also with pocket springs on another layer, i.e. a combination. A bit like a combi-boiler but for beds.
Confusingly, all Hyde & Sleep mattresses are named after colours, across the different ranges.
Hybrid mattresses:
Hyde & Sleep Hybrid Blueberry mattress reviews
Hyde & Sleep Hybrid Raspberry mattress reviews
Hyde & Sleep Hybrid Orange mattress reviews
Memory foams:
Hyde & Sleep Lemon Memory Foam mattress reviews
Hyde & Sleep Lilac Memory Foam mattress reviews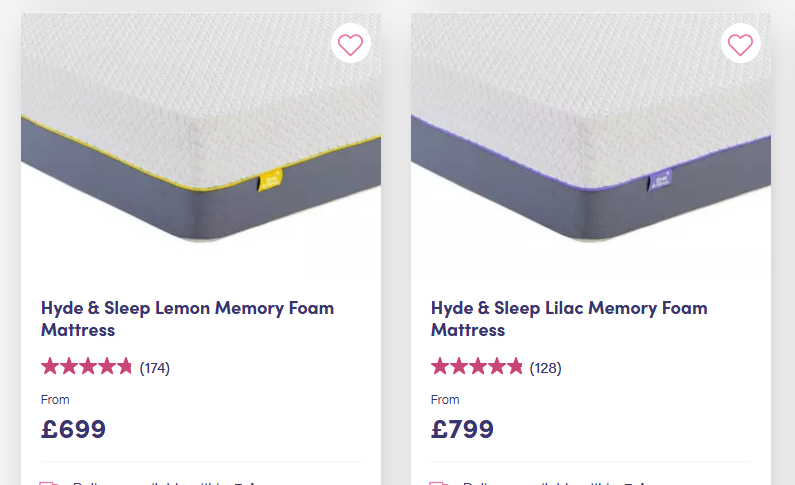 These memory foam mattresses are slightly cheaper than the hybrid ones they also sell. The reason is because they don't contain a pocket spring layer so the costs are slightly less to produce. These mattress have three different layers, and come in different firmness levels. The "Lemon" is rated as high firmness (very firm) whereas the "Lilac" is rated as being softer (medium firm). Which one suits your needs the best is a matter of debate, so I have written a full guide to each mattress above.
General foam:
Hyde & Sleep Carbon Foam mattress reviews
The "Carbon" mattress is not, strictly speaking, 100% memory foam, just "regular" foam. You will note that it's the cheapest mattress that Hyde & Sleep sell, so it could be called a bargain mattress in a box. Currently for sale with a large discount, the reason is because it's not full PU foam so doesn't have the benefits of a full memory foam mattress.
Which Hyde & Sleep mattress is best?
Which Hyde & Sleep mattress is suitable for back sleepers?
Are Hyde & Sleep good mattresses?