When it comes to sleeping, more people tend to sleep on their side than any other position.
And contrary to popular belief, sleeping on your side can be beneficial. As long as your mattress provides the right kind of support and cushioning, sleeping on your side can promote even spinal alignment. Even spinal alignment while you sleep reduces pressure points all over the body. If sensitive areas such as your shoulders and hips are correctly supported, you will wake up feeling refreshed after a good night's sleep on your side.
With all that in mind, the pillow that you choose to use could be causing you to feel uncomfortable in the side sleeping position. For optimum comfort, side sleepers generally need a thicker pillow. The reason behind this is that a thicker pillow will fill the space between your head and neck. If your pillow is too thin, then it will not provide adequate cushioning around your head and neck area. If you're pillow is too thick, then it will throw off the alignment of your spine, developing pressure points. It's a fine balance but ultimately once worth getting right.
The selections for the best pillow for side sleepers below are based on experiences for verified owners of each pillow, as well our own experience and product testing. So without further ado, here are our top picks of pillows for side sleepers.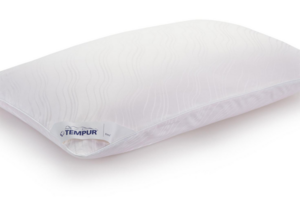 The Tempur Ergonomic pillow has been specially shaped in order to provide optimum comfort for both of these positions. It has been designed for those who require the best possible support to relieve discomfort from the head, neck and shoulders. Available in three different sizes, it boasts the following features:
Uncompromising support for the neck
Made from the contoured, patented Tempur material
Machine washable
30-day trial period
Comes with a 3-year guarantee
If you're not already aware, the materials used in Tempur products were originally developed by NASA. They have been specifically designed for pressure relief and – more importantly – comfort.
Tempur Pillow Composition
The first thing you will notice about the Tempur Ergonomic Pillow is it's shape. This is because it's not like the majority of other pillows available. The unique shape is designed to follow the natural curve of your body when you sleep on your side. The materials used in the Tempur pillow are the same ones used in their mattresses. This mean that they feature visco-elastic cells that are able to mould and adapt to the shape of your head, neck and shoulders.
If you opt for the Tempur pillow, then we would recommend the large size for both men and women. Take advantage for the 30-night free trial and then adjust to a smaller or larger pillow as necessary.
At £99, its not the cheapest pillow available by any means. But the fact that it is adapated specifically for those who sleep on their side means that you will get much better support than from a conventional pillow. For that reason alone it's well worth the money. Don't forget that you can always return the Tempur Ergonomic Pillow if it's not for you. And be sure to check our Tempur discount codes page to see if you can save a bit of money off of the RRP.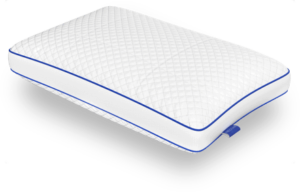 For those of you who have been keeping up to date with this website, you will notice that the Nectar pillow is also mentioned as a recommendation for those who suffer from neck pain. This is because the Nectar pillow is a great all-rounder. It's one of the few pillows out there that is customizable. It can be used to serve a number of different sleeping positions as well as provide relief for some of the most common sleeping ailments.
If you've been in the market for a new memory foam mattress over the past few years, then you will likely have heard of the Nectar pillow. Nectar are one of the original 'Bed in a box' mattress companies, and are probably one of the best sellers too.
Nectar Pillow Construction
The Nectar pillow has been designed to compliment the Nectar mattress. It's made from memory foam, just like the mattress. The thing that sets the Nectar pillow apart from other memory foam pillows is the fact that it is fully customisable. You can add or remove filling as necessary to provide the correct amount of support to suit your needs.
As a side sleeper you will probably find it more comfortable to use the Nectar pillow with the majority – if not all – of it's filling.
At £70, the Nectar pillow is considerably cheaper than the Tempur one. And when you consider that for this price you actually get a pair of pillows, it makes them even better value for money. If your budget doesn't stretch to the price of a Tempur pillow, then you won't go far wrong with Nectar.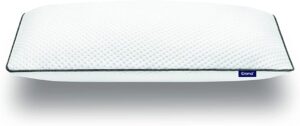 Emma are another popular bed-in-a-box mattress company that also offer their own pillow. They say that their pillow is suitable for all sleeping positions. This is because it contains three removable layers of premium foam. This means that you can tailor your Emma pillow so that it is the perfect height to suit your own sleeping position. Whether that is on your back, front or side.
By adding or removing the foam layers as necessary, you will also be adjusting the firmness of the Emma pillow as well as the height. This means that the Emma pillow is not just suitable for side sleepers. It is also suitable for all body types.
The main thing that we like about the Emma pillow is the way in which it is constructed. The premium foam inside the pillow is breathable. This means that your pillow will stay cool throughout the night. This is particularly important for those who tend to get hot while they sleep, as it means you will no longer have to keep flipping the pillow throughout the night in order to get to the 'cool side'.
Emma Pillow Characteristics
As well as being breathable, the Nectar pillow is ultra-durable. This is important too because we use our pillows every night. The pillow is crafted with the most durable foams possible, which means that it will keep its shape overnight.
Another bonus about the Emma pillow is the fact that it is made from non-toxic materials. It is also vegan friendly and natural hypoallergenic. All of this is topped off by the fact that it is easy to clean. It's simply a case of removing the cover and putting it in the washing machine.
In terms of price it's not the cheapest, especially compared to the Nectar pillow. This is because you get two for virtually the same price as a single Emma pillow. However I think that at £62 it's still good value for money. Bear in mind that like with Emma mattresses, the Emma pillow comes with a 200-night free trial as well as a money-back guarantee.
Also consider the fact that Emma often offer voucher codes or deals that will make the Emma pillow even cheaper. Right now they are offering 33% off the pillow.
Still looking? Check out my other articles on which pillow is best for you:
FAQs
Which pillow is the best for side sleepers?
It's hard to pick one specific pillow, so I've picked three. These three pillows should suit every need and want, giving you the reader the power to decide which one works for you and your partner. Remember that when it comes to bedding, you are purchasing for your partner as well as you.
What is the best firmness rating of pillows?
Side sleepers will want a pillow that is firm, but not too firm. If you opt for a pillow that is too soft, you will sink too far into it and not be able to breath, or get neck ache. Make sure you opt for the right firmness to suit your own needs, not what the manufacturer tells you that you need!
Will new pillows smell like new mattresses?
The famous new mattress smell is created by the chemicals that are present in memory foam. So if your new pillow contains memory foam (also called HD foam or Purefoam…) then yes, it will likely smell for a few days after unwrapping. I have written this guide to show you how to reduce the smell.